Xalien Goes to the Zoo by Michelle Path – Book Review
Xalien Goes to the Zoo by Michelle Path – Book Review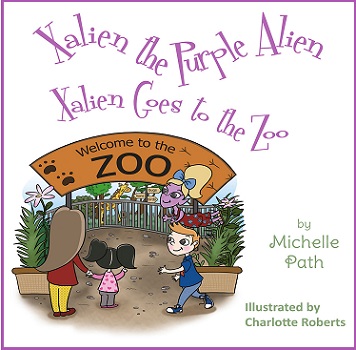 Xalien Goes to the Zoo


Xalien the Purple Alien Book Three
Author – Michelle Path
Publisher – Rowanvale Books
Pages – 32
Release Date – 30th July 2015
ISBN-13 – 978-1910607398
Format – paperback
Reviewer – Stacey
I received a free copy of this book
Post Contains Affiliate Links

Xalien the Purple Alien returns in Michelle Path's newest book for an exciting trip to the zoo with Jessica, Adam and Sarah. Join Xalien as she monkeys around with the apes, eats with the elephants and flutters with the butterflies.
This little alien causes all kinds of mayhem at the zoo, which results in hilarious consequences, yet all the while her Earth friends teach her valuable lessons on how important it is to care for animals.
As Xalien meets Earth animals big and small on her adventure, she tells her friends about the strange and wonderful creatures on her own planet in a story that is out of this world!
Review
Once again the little extra terrestrial visits our planet. Today she is off to the zoo with siblings Jessica, Adam and Sarah.
Xalien had never been to the zoo before and thought our earth animals were funny. Firstly, she visited the monkeys, whom she wanted to hang out with, next the ferocious lions, then the elephants with their funny trunks, and lastly the butterflies – which reminded her of similar creatures back home.
The children, and Xalien all had fun at the zoo, where the children taught Xalien how to behave like a human, until it was time to go home, and for Xalien to go back to her planet.
This is the third book in the Xalien the Purple Alien series that I have read and reviewed, and I must admit to be loving the series.
Xalien is a fab character. I love how the children try to dress her up in normal clothes and put on a wig to make her appear normal, even-though she is purple, but I am sure children will either not notice, or will find this very funny.
The stories are all well constructed to give children an enjoyable read that is both amusing and interesting, whilst at the same time teaches them about manners, and how to behave.
It is a beautiful book that has lots of wonderful, colourful illustrations on each page, and is just as lovely to share, as well as read alone.
Xalien Goes to the Zoo is a real compliment to the series, and my favourite so far.
Book reviewed by Stacey
Purchase Links

Have a read of our reviews of the first two books 'Xalien the Purple Alien' and 'Xalien the Purple Alien Goes to School'.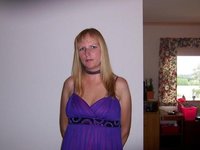 Michelle Path is an Australian children's book writer. She grew up with a love of reading and an appreciation of books from a young age..
In primary school her class were asked to write and illustrate a book, and there her dream of becoming a writer was born. A lot of inspiration for her stories come from things she is interested in or inspired by, especially a love of nature and animals.
Michelle's aim is to write books that are fun to read but that also have an educational slant, a moral or a message. She also wants to incorporate her passion for conservation of the planet and respect for the environment and it's creatures into her writing.
Author Links