Xalien the Purple Alien by Michelle Path – Book Review
Xalien the Purple Alien by Michelle Path – Book Review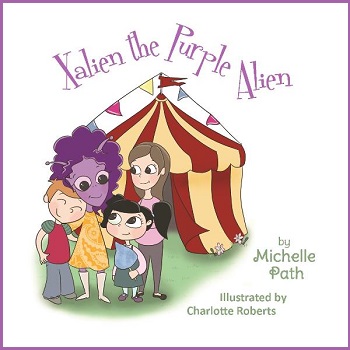 Xalien the Purple Alien
Author – Michelle Path
Publisher – Rowanvale Books Ltd
Pages – 34
Release Date – 31st August 2015
ISBN-13 – 978-1909902503
Format – paperback
Reviewer – Stacey
I received a free copy of this book
Post Contains Affiliate Links

The story of Xalien the purple alien is about an alien who crashes to earth and finds herself befriended by three children; Jessica, Adam and Sarah.
Whilst on Earth, Xalien learns all about planet Earth and the all the strange habits Humans have; often resulting in funny and unusual situations as she tries her hardest to fit in.
Along the way, Xalien teaches the three children, about life on her own Planet. The aim of the story is for children to develop a love for reading by entertaining them with the fun and bizarre adventures Xalien finds herself on.

One night when she should of been tucked up in bed, Sarah saw a shooting star. She told her brother Adam, and sister Jessica what she had seen, but when they heard their mum coming down the corridor, they all went back to bed.
The next day, the children heard a funny sound coming from their garden. When they went to investigate, they came across a purple coloured alien who introduced herself as Xalien.
Xalien had come from a planet far, far away, but had crashed and broke her spaceship on Earth. The three children decided to show Xalien around, and took her to the fair with them where they taught her how to behave and act like a human.
But soon Xalien's family arrived to rescue her, and it was time for her to go home. The children waved her goodbye, knowing that aliens were indeed real.
Xalien the Purple Alien, is a lovely children's book, that at the start reminded me of the film ET. An alien crashes to Earth, hides in the children's garden, and when they see each other they all scream. They then dress the alien up to disguise her. This however is where the similarities end, plus she doesn't look anything like ET.
Being only 34 pages long, children can read this book in one sitting. It is also the first in a series, so if they enjoy this book, they get to meet, Xalien again.
What I truly love about this book is the wonderful, colourful, and inviting illustrations by Charlotte Roberts. She has done a lovely job that heightens the reading experience, and pictorially depicted the story perfectly.
Xalien the Purple Alien is a very sweet book that will perk young children's interest. The characters are delightful, the plot is engaging, illustrations are divine, and it is the first in a series. What more could you want?
Book reviewed by Stacey
Purchase Links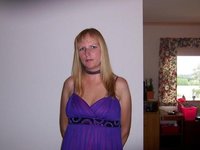 Michelle Path is an Australian children's book writer. She grew up with a love of reading and an appreciation of books from a young age..
In primary school her class were asked to write and illustrate a book, and there her dream of becoming a writer was born. A lot of inspiration for her stories come from things she is interested in or inspired by, especially a love of nature and animals.
Michelle's aim is to write books that are fun to read but that also have an educational slant, a moral or a message. She also wants to incorporate her passion for conservation of the planet and respect for the environment and it's creatures into her writing.
Author Links