Princess Rosalinda and the Color Pink by Marcel Szenessy – Book Review
Princess Rosalinda and the Color Pink by Marcel Szenessy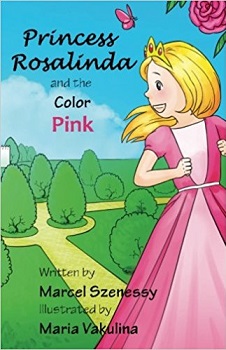 Princess Rosalinda and the Color Pink
Author – Marcel Szenessy
Publisher – Createspace
Pages – 32
Release Date – 15th April 2017
ISBN-13 – 978-1545156308
Format – ebook, paperback
Reviewer – Stacey
I received a free copy of this book
Post Contains Affiliate Links

Rosalinda is a young energetic princess with lots of ideas. Her parents support her in every way to let her live her dreams even if it means to completely redesign their kingdom. However, one day Rosalinda makes an amazing eye-opening discovery that changes the way she sees the world…

Princess Rosalinda lives with her parents in a palace. She loves the colour pink, and wants everything to be pink. From her dresses, to the garden, and even the sky, everything has to be pink.
Her father, the King, grants all of her pink wishes, but Rosalinda soon realises that not everything is meant to be pink in colour and that by turning everything one colour, even if it is her favourite, the world doesn't look as nice as she had hoped it would be.
Princess Rosalinda and the Colour Pink is a short fairy-tale-Esq book, that has just 32 pages. Princess Rosalinda is quite a spoilt young girl, especially as she is an only child, and her father wants to make her very happy, even when he knows that what she is requesting isn't good or right.
The book has bright, full page illustrations by Maria Vakulina, which are superbly drawn. They visually show exactly what is happening during the story and help young children to understand what is happening at every step.
This is a lovely, refreshing, princess story, that young children who love a good fairy tale will enjoy right from beginning to the very end.
Book reviewed by Stacey
Purchase Links