Seven Sisters by Ayisha Malik – Book Review
Seven Sisters by Ayisha Malik – Book Review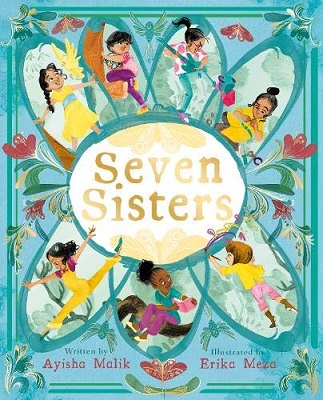 Seven Sisters
Author – Ayisha Malik
Illustrator – Erika Meza
Publisher – Little Tiger Press
Pages – 64
Released – 5th August 2021
ISBN-13 – 978-1788952095
Format – hardcover
Rating – 4 Stars
I received a free copy of this book.
This post contains affiliate links.


Synopsis
High up in the trees seven sisters swing, swoop and swirl – each totally different and brilliant in their own way. The treetops are full of music, colour and life!
Until one day the ground trembles and the trees shake. Something is changing…
There once were seven sisters who lived in their own homes up in the trees. They each liked their own space and all enjoyed different hobbies, from playing musical instruments to gymnastics, and writing. Some loved the noise, some liked it quiet. Some were early birds whilst others liked to get out of bed late.
One day a new tree appeared and the girls were so excited, they each wanted to build a new home within it, but they also didn't want their sisters with them. They fought and argued but none would back down. Can these sisters come to a compromise or have they ruined their bond forever?
The story is very charming and intriguing, especially as seven young girls are living alone in a forest, each in their own homes, they do have an aunt who lives nearby. I loved how each of the girls was very different from each other and how they all liked different things, their personalities certainly shone from the pages.
The plot was one of love and the girls being shown that they needed each other and how to work things out amicably. The book did feel like it took a little too long to get to the point, however, it is enjoyable and the illustrations that adorn each page are beautiful to look at and they bring the story to life, so I didn't mind too much.
Seven Sisters is a picture book, but one for older children as there is a lot of text on each page. The story is different, unique, and entertaining. There are a few good messages throughout that come across strongly. This is a book that will hopefully speak to children, especially those with annoying siblings!
Purchase Online From:
---
What did you think of 'Seven Sisters'? Share your thoughts in the comment section below!
---
The above links are affiliate links. I receive a very small percentage from each item you purchase via these links, which is at no extra cost to you. If you are thinking about purchasing the book, please think about using one of the links. All money received goes back into the blog and helps to keep it running. Thank you.
Like us on Facebook – Tweet us on Twitter – Pin us on Pinterest – Join us on Instagram