Rita wants a Dragon by Máire Zepf – Book Review
Rita wants a Dragon by Máire Zepf – Book Review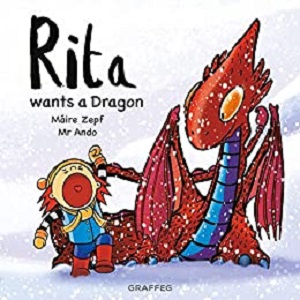 Rita wants a Dragon
Author – Máire Zepf
Illustrator – Mr Ando
Publisher – Graffeg Limited
Release Date – 24th February 2022
Pages – 36
ISBN 13 – 9781914079665
Format – ebook, paperback
Star Rating – 4
I received a free copy of this book.
This post contains affiliate links.

Synopsis
Meet Rita. She's a little girl with very big ideas. When Rita gets cross she imagines she has a ferocious dragon that will make the world shudder with anger. But even the hottest tempers can be soothed and Rita's mum knows just how.
Rita is a young girl who has a very big imagination. When her snowman is knocked down she becomes angry and decides she wants a Dragon as they are angry too. They can breathe fire, roar loudly, and fly her far away from other people.
Rita wants a Dragon is a book in the Rita wants series which currently includes six stories. In each book, Rita uses what is happening to her at that moment in time to conjure up an image in her head for what could be useful to her. Just like the dragon in this story because she is mad and dragons always come across as angry creatures.
The book is short, amusing, and has amazing illustrations. It complements the series perfectly and shows just how big Rita's imagination is and hopefully will get the young readers to explore theirs too.
---
Purchase Online:
Máire Zepf

Máire Zepf has written 12 books for children, from picture books to a YA verse novel. Winner of the KPMG Children's Book of the Year, the Réics Carl Award and a White Raven in 2020, her books appear in 8 languages worldwide. The Co. Down author was the first Children's Writing Fellow for Northern Ireland and is Artistic Director for Quotidian.
Author Links:
---
The above links are affiliate links. I receive a very small percentage from each item you purchase via these links, which is at no extra cost to you. If you are thinking about purchasing the book, please think about using one of the links. All money received goes back into the blog and helps to keep it running. Thank you.