Goodbye, Bear by Jane Chapman – Book Review
Goodbye, Bear by Jane Chapman – Book Review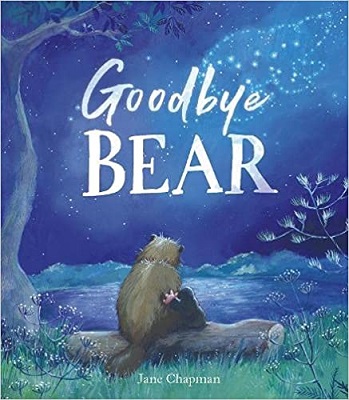 Goodbye, Bear
Author – Jane Chapman
Publisher – Little Tiger Press
Release Date – 3rd February 2022
Pages – 32
ISBN 13 – 978-1801041720
Format – Hardcover
Star Rating – 4
I received a free copy of this book.
This post contains affiliate links.

Synopsis
Bear died on a Friday, as sun speckled the grass and caterpillars nibbled the leaves. Beaver and Mole are devastated by the loss of their friend. They share their sadness and anger, but find joy in their memories and stories of Bear. Together they decide to finish Bear's treehouse only to discover that he had a surprise waiting for them all along. One that they will carry in their hearts for ever.
It can be difficult to know what to do when someone dies. Grief is all-consuming, complex and powerful. This uplifting, gentle and reassuring story about the death of a loved one encourages those who have lost, both young and old, to celebrate and remember their loved one, while also finding solitude in friendship and community during times of hardship. The ideal companion for readers of Badger's Parting Gift, The Memory Tree and Michael Rosen's Sad Book.
Goodbye, Bear is a heartfelt book. It begins with the death of Bear and follows the story of his friends Beaver and Mole who are grieving for him.
Through the pain of losing a close friend who they loved, the friends rely on one another to help them get through the dark times when they miss their good friend so much it hurts, through to the brighter times when they can remember bear without feeling too sad and preserve his memory with the help of a few other of Bears friends too.
Goodbye, Bear is quite a hard story to read but one that children who are going through the grieving process may just appreciate. Bear's death is told with love and compassion and the whole tale has an air of comfort surrounding it.
A delicate subject that has been perfectly thought out and executed well. There are completely beautiful illustrations on every page too.
---
Purchase Online:
Jane Chapman
Jane Chapman has been illustrating children's books for over twenty-five years. She loves to paint snow, especially when the weather is hot, but she gets very cross with her cat when he sits in her paint.
Jane lives in south-west England with her two sons.
Author Links:
---
The above links are affiliate links. I receive a very small percentage from each item you purchase via these links, which is at no extra cost to you. If you are thinking about purchasing the book, please think about using one of the links. All money received goes back into the blog and helps to keep it running. Thank you.