Football School Epic Heroes by Alex Bellos – Book Review
Football School Epic Heroes by Alex Bellos – Book Review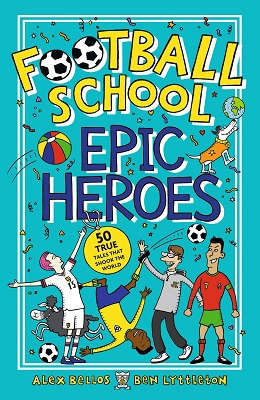 Football School Epic Heroes
50 True Tales That Shook the World
Author – Alex Bellos & Ben Lyttleton
Illustrator – Spike Gerrell
Publisher – walker Books
Pages – 208
Released – 1st October 2020
ISBN-13 – 978-1406386653
Format – ebook, paperback
Rating – 4 Stars
I received a free copy of this book.
This post contains affiliate links.


Synopsis
Celebrate the greatest names and teams in football history with this collection of 50 true stories.
Discover the greatest football moments of all time in this collection of 50 exciting stories, perfect for fans of Football School: Star Players. Discover the incredible stories of heroes such as Messi, Ronaldo, Klopp and Rapinoe, but also the tales of the dog that helped win the league for his team and the team who won the championship with the very final kick of the game.
Bringing together the best names in the game with some truly weird, wonderful and hilarious occurrences, this book is a must-read for any young football fan.
The Football School books have been going for several years. They started as books that combined different subjects from school with football. Lately, they have moved on to different areas of the great game, this one being 50 true football tales that shook the world
Whilst some of the tales are jaw-dropping I'm not sure that they all shook the world. From a Chilean cheating goal-keeper who tried to get Brazil disqualified to a Russian footballer being sentenced to ten years in prison for praising western Europe, but inside he was treated like royalty by both the inmates and guards. Some of the stories are from many years ago, whilst others are bang up to date.
The book is full of black and white artwork, often hilarious, and snippets of information too. At the back is a forty question quiz on what the reader has learned throughout as well as some pages set up like front pages of newspapers for children to write their own football story in.
The book is a wonderful compliment to the rest of the series and with school books, a quiz book, a joke book, puzzle books, star players book, and now this one, I do wonder where the duo can take the series next. Are there still more football stories they haven't covered?
If you have a football-mad child then this is the book to give them. Hopefully, they will enjoy learning all about some of the weird, strange, unusual, heroic, and captivating moments that there has been in the world of football.
---
What did you think of 'Football School Epic Heroes'? Share your thoughts in the comment section below!
---
The above links are affiliate links. I receive a very small percentage from each item you purchase via these link, which is at no extra cost to you. If you are thinking about purchasing the book, please think about using one of the links. All money received goes back into the blog and helps to keep it running. Thank you.
Like us on Facebook – Tweet us on Twitter – Pin us on Pinterest