Burn by Patrick Ness – Book Review
Burn by Patrick Ness – Book Review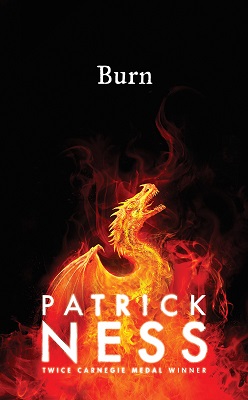 Burn
Author – Patrick Ness
Publisher – Walker Books
Pages – 384
Released – 7th May 2020
ISBN-13 – 978-1406375503
Format – ebook, paperback, hardcover, audio
Rating – 4.5 Stars
I received a free copy of this book.
This post contains affiliate links.


Synopsis
"On a cold Sunday evening in early 1957, Sarah Dewhurst waited with her father in the parking lot of the Chevron Gas Station for the dragon he'd hired to help on the farm."
This dragon, Kazimir, has more to him than meets the eye. Sarah can't help but be curious about him, an animal who supposedly doesn't have a soul but is seemingly intent on keeping her safe from the brutal attentions of Deputy Sheriff Emmett Kelby.
Kazimir knows something she doesn't. He has arrived at the farm because of a prophecy. A prophecy that involves a deadly assassin, a cult of dragon worshippers, two FBI agents – and somehow, Sarah Dewhurst herself.
Set in 1950s America at a time when humans and dragons co-exist. We meet young Sarah Dewhurst and her father who is waiting for the arrival of a dragon that will help them on their farm, as they are much cheaper than people. The dragon, a Russian Blue named Kazimir is there though to protect Sarah and to save the world.
In Canada, a young teenage 'Believer' (Dragon worshippers) called Malcolm has been given orders by his goddess to head to America and to carry out an assassination on someone to stop a war.
FBI Agents Woolf and Dernovich have been given the task of finding the assassin and stopping him after he killed some of their men with the help of a dragon.
This is a cat and mouse chase like no other. Who has been misled and who is really trying to stop a war whether that be between men or men and dragons?
Told in two parts and the third person, Burn is told from various viewpoints. The plot plays out as three separate stories yet interweaves them when the time comes.
Sarah is a sweet young girl who has been brought up by her father alone on their farm since their mother died. To keep the farm and pay off the debts her father needs a bumper crop and harvest and to be able to afford this he hires a dragon.
Kazimir the dragon is a small Russian Blue, not many are seen and certainly not working on a farm. The book might be set in a fantasy world but the racism and bigotry of the 50s are certainly present and the locals don't like a Blue being close by, he could be a Russian spy. The local police officer already doesn't like the family as Sarah is of mixed race. He also has an issue with her best friend Jason who is of Japanese descent.
The plot moves along at a decent pace. You get to hear from Malcolm about his mission as he meets a young man on his journey and shares his thoughts and his body with him. You also see the bickering agents as they try to track Malcolm down, yet are always two steps behind him.
You would think that the story would conclude when Malcolm reaches his target, but it doesn't. This is only partway through and another storyline begins. There were certainly plenty of twists and I wasn't expecting the book to change the direction the way it did.
Patrick Ness writes unusual stories that are often just outside the real world. He plays with your mind and has you questioning everything you have read and learned as the book progresses. Some may not like this style but I adore weird, strange books that are not the norm, just like this one.
---
What did you think of 'Burn'? Share your thoughts in the comment section below!
---
The above links are affiliate links. I receive a very small percentage from each item you purchase via these link, which is at no extra cost to you. If you are thinking about purchasing the book, please think about using one of the links. All money received goes back into the blog and helps to keep it running. Thank you.
Like us on Facebook – Tweet us on Twitter – Pin us on Pinterest