Voyages in the Underworld of Orpheus Black by Marcus and Julian Sedgwick – Book Review
Voyages in the Underworld of Orpheus Black by Marcus and Julian Sedgwick – Book Review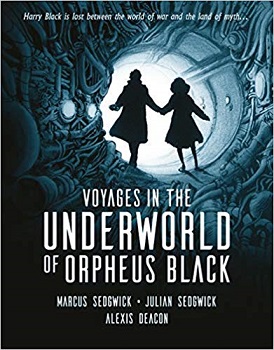 Voyages in the Underworld of Orpheus Black
Authors – Marcus and Julian Sedgwick
Illustrator – Alexis Deacon
Publisher – Walker Books
Pages – 320
Released – 2nd May 2019
ISBN-13 – 978-1406357929
Format – hardcover
Reviewer – Stacey
Rating – 4 stars
I received a free copy of this book.
This post contains affiliate links.
A lyrical and dreamlike story of two brothers in conflict amidst the devastation of WWII London.
Harry Black wakes in hospital to learn that his brother Ellis has almost certainly been killed by a V2 rocket falling during a German air raid on London. In a state of wounded delirium, Harry's mind begins to blur the distinctions between the reality of the war-torn city, the fiction of his unpublished sci-fi novel and the myth of Orpheus and Eurydice.
Driven by visions of Ellis still alive and a sense of poetic inevitability, Harry discharges himself from hospital and begins a search for his brother that will lead him deep into the city's Underworld…

Voyages in the Underworld of Orpheus Black is one of those books that you are never fully sure on what is happening but you don't want to put it down either. A storyline that both keeps you engaged and totally confuses you, plus it's a little strange too.
Set in London during WWII, we begin our journey on Boxing Day 1944 at 4.15pm with National Fire Service Fireman Harry Black attending a warehouse fire. He's not off fighting in the war like his brother Ellis, in fact, Harry is an objector of the war.
During the fire, Harry becomes trapped after mistaking some mannequins for people. He eventually makes it out but has a kind of epiphany, one in which he realises for the first time he is truly alive and he needs to start living, including going back to writing and drawing. Ellis is the better writer of the two and he wants them to pen a book together so he meets him at the White Horse pub to talk about the book and getting back to being brotherly to one another again.
Harry left the pub and got on the local bus, leaving Ellis in the pub, that's when a V2 bomb struck flattering the building and knocking the bus over. Harry woke up in hospital delirious and confusing the ideas and drawings he has for his book and reality and soon the two begin to merge together and Harry confuses himself with a character called Orpheus Black.
The book is told from the point of view of Harry and Orpheus, they are but one and the same. The book captures the true essence of war as well as brotherly love and how vivid the imagination can be at times.
The illustrations throughout are dark and meaningful. They make you feel what the time period was like and the harrow and suffering that was felt by all in those years. They say a picture is worth a thousand words and these images are living proof of that.
Amongst the storyline and the illustrations are poems too, there are some very deep and thought-provoking poems throughout. At the back is a letter from Ellis which makes you wonder whether Marcus and Julian Sedgwick came up with the plot or whether there really was an Ellis Black, either way, it is a magnificent read and even in my confusion, the book was enjoyable.
Book Reviewer – Stacey
---
Purchase online from:
---
What did you think of the book? Share your thoughts in the comment section below!
---
The above links are affiliate links. I receive a very small percentage from each item you purchase via these link, which is at no extra cost to you. If you are thinking about purchasing the book, please think about using one of the links. All money received goes back into the blog and helps to keep it running. Thank you.