There Is A Light That Never Goes Out by Michael Whone – Book Review
There Is A Light That Never Goes Out by Michael Whone – Book Review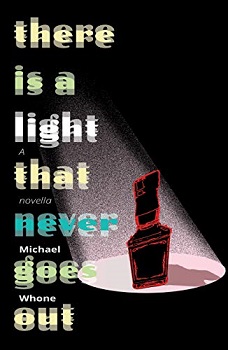 There Is A Light That Never Goes Out
Author – Michael Whone
Publisher – Bolero Bird
Pages – 152
Released – 27th August 2018
ISBN-13 – 978-1775330011
Format – ebook, paperback
Reviewer – Stacey
Rating – 3 Stars
I received a free copy of this book.
This post contains affiliate links.
Aiming to find the man that no longer resides in him, Vic devises a plan to unite with his inner self. In his first summer and autumn in a house on Etherington Crescent, he gathers all the necessities he needs to withdraw from the outside world and reassemble the lonely, marginalized outsider he's become. With a new found purpose, he attracts two women with similar, but subconscious, conflicts of mind. Slowly he comes to realize what underlies their personas. Two trysts develop, one after the other, but no one said it would be easy. No one said things would go awry.
Part One of There Is a Light That Never Goes Out is a memory of how the trio of outsiders came to find one another. The second part is a satirical romance that, in Michael Whone's distinctly modular narrative and wry wit, transforms each beat of Vic's words into a portrait of mystical awakening. Untangling the frustration of losing the lover that waltzed before his eyes and saved his life one winter three years ago, Vic grows enlightened by the urban wilderness around him—a metaphysical beauty surfacing in the shape of his lost love.
A story of Vic, Paula and Sarah, their natural yet unnatural connection with love, and life's fragility pleading them to love just a little bit deeper and more sensibly. In an ideal world, true love would save the day, but as fickle and superficial as relationships are, the three of them lead themselves deeper into a hapless desperation for heartbreak.

Vic is a man who has never been in love. He moves into a property with a few other tenants including sisters Sarah and Paula. Vic had mental health issues and had been diagnosed with schizophrenia. Over the course of the next few months Vic manages to come out of his shell a little and becomes close to Paula, a young woman who also had mental health issues but just as they start getting really close something sends Vic back into his shell and hiding in his room.
'There Is A Light That Never Goes Out' is a decent enough story featuring characters that have mental health issues and their daily struggles including college and their love life. Vic is a complex character, but one that I enjoyed getting to know and to understand a little. Paula, on the other hand, I wasn't so sure of, she was like a little mouse at times and a lion at others.
The plot is okay but not one that I would normally choose to read. The book is split into two parts. The first is a memory, which had I not read that in the synopsis I wouldn't have known it was a memory, especially as it went on for six chapters and included lots of little details. I was then a little confused when I got to the second part and it included dates, yet there were no dates in the first part so nothing to compare these dates too, this didn't make sense to me but it didn't distract too much from the story.
My issue with There Is A Light That Never Goes Out is that I found the writing to be a little basic, some of the sentences just didn't flow or the wording didn't seem quite right. To be completely honest the book lacked an air of realism to it as the characters had conversations that I really couldn't hear real people having.
I really did want to like this book but unfortunately, it fell short for me.
Book Reviewer – Stacey
---
Purchase online from:
---
What did you think of the book? Share your thoughts in the comment section below!
---
The above links are affiliate links. I receive a very small percentage from each item you purchase via these link, which is at no extra cost to you. If you are thinking about purchasing the book, please think about using one of the links. All money received goes back into the blog and helps to keep it running. Thank you.