Julius Zebra #4 by Gary Northfield – Book Review
Julius Zebra #4 by Gary Northfield – Book Review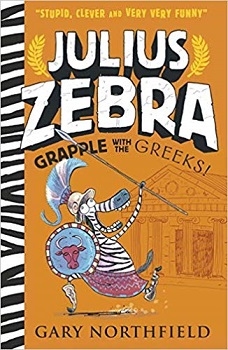 Julius Zebra
Grapple with the Greeks!
Author – Gary Northfield
Publisher – Walker Books
Pages – 320
Released – 7th March 2019
ISBN-13 – 978-1406386387
Format – ebook, paperback, hardcover, audio
Reviewer – Stacey
Rating – 5 Stars
I received a free copy of this book.
This post contains affiliate links.
In the much-anticipated fourth Julius Zebra book, Grapple with the Greeks!, demi-god Heracles promises Julius and his chums a great reward if they can help him to find the lost Golden Apple.
On this madcap new adventure, our unlikely heroes will confront the Minotaur in the labyrinth, trick a one-hundred-headed dragon at the Garden of Hesperides and, after a dramatic visit to King Midas, perform a daring rescue attempt in the depths of the Underworld. But what will the ever-watchful gods on Mount Olympus have to say about their antics?
A hugely enjoyable addition to this internationally popular series.

in Julius Zebra #4, Julius Zebra is back in his fourth book, this time he is grappling with the Greeks.
Demi-God Heracles needs to find a golden apple to complete his labours. He enlists the help of Julius and his friends to help him recover it and offers them immortality in return for their help. However, not long into their journey Heracles disappears and leaves the friends to search for the golden apple themselves.
They fight a Minotaur and even a hundred-headed dragon in their quest to find the apple but will they succeed and will they become immortal? – Start reading now to find out.
I grew up on slap-stick humour. My dad used to watch cartoons like Tom and Jerry alongside the likes of Oliver and Hardy and the Carry On films, I presume this is where I got my love of humour from.
The Julius Zebra books really remind me of these types of programmes as they are pure entertainment from beginning to end, the characters don't take themselves too seriously (well most of them) and there are plenty of laugh-out-loud scenes throughout and of course there are the amazing cartoon illustrations to giggle at too.
If you haven't heard of the series then you are really missing out. The previous books are – Rumble with the Romans! Book One, Bundle with the Britons! Book Two and Entangled with the Egyptians! Book Three. All of them are equally as amusing and are a lot of fun to read.
I am sure that middle-grade readers will love these books. They are pure entertainment from beginning to end and are filled to the brim with adventure.
Grapple with the Greeks! is one of those books that makes you smile from ear to ear (and wince now and again). I can see this series become a big hit with kids. There are also pages at the back full of factual information and fun things for kids to do too.
Book Reviewer – Stacey
---
Purchase online from:
---
About the Author

Hailing from Essex, I graduated from Harrow College (University of Westminster) with a degree in Illustration in 1992. After discovering the hidden world of small press comics, I took the plunge with my own comics creating various titles such as "Great!", "Little Box of Comics" and "Stupidmonsters".
In 2002 I jumped head-first into the deep end of children's publishing with the position of in-house illustrator at Eaglemoss Publications, where I worked for five years on amazing projects such as Horrible Histories, Horrible Science and The Magical World Of Roald Dahl.




---
What did you think of the book? Share your thoughts in the comment section below!
---
The above links are affiliate links. I receive a very small percentage from each item you purchase via these link, which is at no extra cost to you. If you are thinking about purchasing the book, please think about using one of the links. All money received goes back into the blog and helps to keep it running. Thank you.