Eureka! by Jonathan Litton – Book Review
Eureka! by Jonathan Litton – Book Review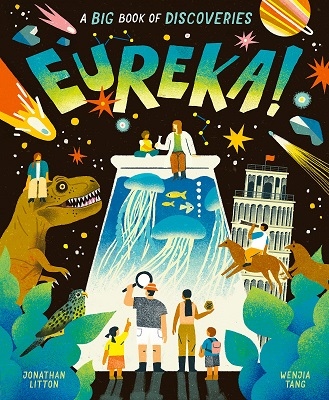 Eureka!
A Big Book of Discoveries
Author – Jonathan Litton
Illustrator – Wenjia Tang
Publisher – 360 Degrees
Pages – 72
Released – 5th August 2021
ISBN-13 – 978-1848579422
Format – hardcover
Rating – 5 Stars
I received a free copy of this book.
This post contains affiliate links.


Synopsis
Dive into a world of discoveries!
Meet the bright sparks who developed electricity and the scientists who looked to the stars. Marvel at mathematicians and be amazed by archaeologists as you learn about discoveries both old and new in this exciting encyclopaedia of exploration!
Eureka!: A Big Book of Discoveries is a tremendous, educational, and absorbing book all about the world. It is split into five sections – Intro to History, Intro to Earth, Intro to Science, Intro to Space, and Nature of Discoveries.
The book is filled to the brim with facts and useful information. More importantly, it is also entertaining and interesting, which is how you get children to learn. Reading a dull textbook doesn't help them to absorb and take in the information but give them fun facts, amusing knowledge, perfect illustrations, and text written at a child's level and you are on to a winner.
Each section is split into categories. My particular favourite was 'Lost Worlds' in which the author shares with us information on places that are no longer habited, whether that be St Kilda in Scotland, or Pripyat (Chernobyl disaster), there were plenty other, some I've never heard of before and I have been Googling about them.
That is what is amazing about this book, in that it gives you copious amounts of information but also leaves you wanting that little bit more. It perks your interest and will leave children wanting to find out more on subjects they have enjoyed. No matter what they are into, whether that be space, animals, learning about their bodies, this book covers it.
Eureka! is a truly remarkable book, larger and heavier than your normal reading/picture book but how else are you meant to contains so much information in one place!
Purchase Online From:
---
What did you think of 'Eureka!'? Share your thoughts in the comment section below!
---
The above links are affiliate links. I receive a very small percentage from each item you purchase via these links, which is at no extra cost to you. If you are thinking about purchasing the book, please think about using one of the links. All money received goes back into the blog and helps to keep it running. Thank you.
Like us on Facebook – Tweet us on Twitter – Pin us on Pinterest – Join us on Instagram