Goodnight Everyone by Chris Haughton – Book Review
Goodnight Everyone by Chris Haughton – Book Review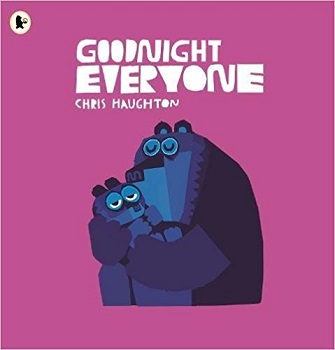 Goodnight Everyone
Author – Chris Haughton
Publisher – Walker Books
Pages – 40
Release Date – 3rd August 2017
ISBN-13 – 978-1406373226
Format – paperback, hardcover
Reviewer – Stacey
Rating – 5 Stars
I received a free copy of this book
Contains Affiliate Links
I received a free copy of this book

In this stunningly illustrated bedtime book, perfect for the end of the day, a series of exquisitely coloured cut pages of increasing size introduce woodland families – bears, deer, rabbits and teeny, tiny mice – who are all beginning to feel really …rather …tired …YAWN!
"Dear me," says Great Big Bear, "it must be time for bed!" But Little Bear is certainly not sleepy – he's wide awake! (For now…) With sublime, starry night time scenes and an infectious yawny "Good night" refrain, Chris Haughton creates a lulling bedtime read, perfect for parents and children to share together.
Review
As the sun goes down, all the animals are going to sleep, except little bear. He's not tired and wants to play.
Yawn, say the mice, yawn, say hare and deer, but still little bear isn't tired.
However big bear tells little bear to lie down and relax. Soon little bear is snoring.
Goodnight Everyone is the perfect bedtime story, with its tale of sleepy animals.
The illustrations are drawn on deep coloured backgrounds. They are simple with straight lines, and certainly capture the feeling of it being night-time. The text is kept to a minimum, which will help young children read along with the person they are sharing it with.
Inside the front and back covers are star charts, and a page showing the solar system, including the sun and moon. I can see children eager to peer out of their windows and see if they can find any of the constellations, including Ursa Minor (little bear), and Ursa Major (big bear).
A wonderful bedtime story that I can see becoming a household favourite, and being asked to be read over and over again.
Book Reviewed by Stacey
Purchase Links
---

Chris Haughton is an Irish illustrator and author living in London. He was listed in Time magazine's 'DESIGN 100' for the work he has been doing for fair trade clothing company People Tree.
His debut book 'A Bit Lost' was first published in English in September 2010. It has been translated into 15 languages and won 9 awards in 7 countries including the Dutch Picturebook of the Year.
'Oh No George' came out in March 2012 and has been nominated for 6 awards in 4 countries including the Roald Dahl Funny award.
Author Links