The Watch House by Bernie McGill – Book Review
The Watch House by Bernie McGill – Book Review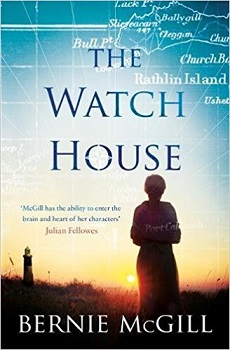 The Watch House
Author – Bernie McGill
Publisher – Tinder Press
Pages – 368
Release Date – 10th August 2017
ISBN-13 – 978-1472239563
Format – ebook, paperback
Reviewer – Stacey
I received a free copy of this book
Post Contains Affiliate Links

As the twentieth century dawns on the island of Rathlin, a place ravaged by storms and haunted by past tragedies, Nuala Byrne is faced with a difficult decision. Abandoned by her family for the new world, she receives a proposal from the island's aging tailor. For the price of a roof over her head, she accepts.
Meanwhile the island is alive with gossip about the strangers who have arrived from the mainland, armed with mysterious equipment which can reportedly steal a person's words and transmit them through thin air. When Nuala is sent to cook for these men – engineers, who have been sent to Rathlin by Marconi to conduct experiments in the use of wireless telegraphy – she encounters an Italian named Gabriel, who offers her the chance to equip herself with new skills and knowledge.
As her friendship with Gabriel opens up horizons beyond the rocky and treacherous cliffs of her island home, Nuala begins to realise that her deal with the tailor was a bargain she should never have struck.
Review
Opening in April 1899, on Rathlin Island, off the coast of Ireland, the book begins with the birth of a child. The story then goes back in time to February 1898.
Fionnula (Nuala) Bryne, was brought up by her grandparents, after her family moved to Canada. Nuala has a special ability to be able to see and hear voices that no-one else can.
After the death of her grandparents, Ned (The Tailor) McQuaid, asks Nuala to be his wife. Not wanting to be left alone and poverty-stricken, Nuala accepts this offer from a man twice her age, and one she doesn't know very well.
Once married it turns out that there will be three people in her marriage, her, Ned and Ginny, Ned's sister. Ginny has no intention of leaving her brother's side, and doesn't like, nor trust Nuala.
A life alone may have left her poverty-stricken, but her marriage has left her full of sadness and regret. Will Nuala ever find happiness in a place where everyone knows everyone else's business?
I found The Watch House quite a hard read, in that I had to read it slowly. I needed every little piece of information to be absorbed thoroughly, or I would lose track and have to go back over previous pages again.
The story is heart-breaking and poignant, yet fully captivating. The information regarding Marconi's Men, and the work they did was all based on true facts about Marconi using the small island off the coast of Ireland to test his wireless link between Rathlin Island and Ballycastle.
The book has a wonderful cast of characters, from those that you will have pure empathy for, to those who seem like they are filled with evil.
I was full absorbed by the writing, and the immense research that McGill has put into her work to make this a book that you want to take your time with. The Watch House is not a novel to rush, but one to savour.
It's books like this one that bring to the forefront what the past generations were like, and how hard they had it. This is an extraordinary story, both immensely tragic and heartening at the same time.
Book reviewed by Stacey
Purchase Links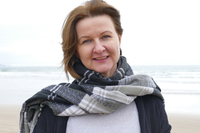 Bernie McGill was born in Lavey in County Derry in Northern Ireland. She studied English and Italian at Queen's University, Belfast and graduated with a Masters degree in Irish Writing.
She has written for the theatre (The Weather Watchers, The Haunting of Helena Blunden), the novel, The Butterfly Cabinet and a short story collection, Sleepwalkers.
Her short fiction has been nominated for numerous awards and in 2008 she won the Zoetrope:All-Story Short Fiction Award in the US. She is a recipient of the Arts Council of Northern Ireland's inaugural ACES (Artists' Career Enhancement Scheme) Award in association with the Seamus Heaney Centre at Queen's University, Belfast.
She lives in Portstewart in Northern Ireland with her family and works as a Creative Writing facilitator. Bernie offers One-to-One Mentoring on manuscripts via the Irish Writers' Centre and she is available for part-funded school visits via Poetry Ireland's Writers in Schools Programme.
Author Links
www.berniemcgill.com
@berniemcgill
Facebook
Goodreads