Julius Zebra #1 by Gary Northfield – Book Review
Julius Zebra #1 by Gary Northfield – Book Review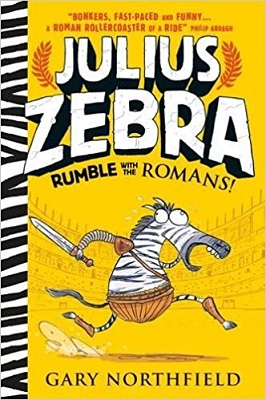 Julius Zebra
Rumble with the Romans!
Author – Gary Northfield
Publisher – Walker Books
Pages – 288
Released – 7th April 2016
ISBN-13 – 978-1406365870
Format – ebook, paperback, hardcover, audio
Reviewer – Stacey
I received a free copy of this book
Post contains affiliate links
From the hilarious, celebrated cartoonist Gary Northfield – author of The Terrible Tales of the Teenytinysaurs! – comes a brand-new illustrated chapter book series set in Roman times!
From a smelly watering hole deep in the heart of the Serengeti to the ferocious clamour of the Colosseum, join Julius Zebra and his motley menagerie of friends as they gear up to be … gladiators! Only if they win the love of the Roman crowds will they win back their freedom.
But do Julius and his pals have what it takes to succeed in a world where only the meanest and toughest survive? Madagascar meets Gladiator in this exciting, action-packed and hysterically funny story brimming with entertaining Roman facts.
Review
Julius Zebra: Rumble with the Romans!, is the first book in a series about a Zebra called Julius. As daft as it may sound, I actually read book two, Bundle with the Britons! before reading this one (that one was a five star rating too). Whilst it was good to get to know the back story of the characters, I don't feel that it actually lessened my enjoyment.
Talking of enjoyment, you may be wondering why a 30 something woman would be interested in reading these kids books. Well, I was brought up on slapstick humour, think Laurel and Hardy, The Carry on Films, and even the older, none PC cartoons. This series of books reminds me of them and captured my attention, giving me a giggle from beginning to end.
Gary Northfield has a talent for creating humorous, imaginative books. A gladiator fighting Zebra, who would of thought it! The characters are all completely wacky, with no social skills and they tend to just do the first things that come into their heads.
There are black and white illustrations throughout, most accompanied by speech bubbles, or diagrams, such as Julius pointing out the difference between a horse and a zebra. He hates being called a horse. There is also a lesson in Roman numerals at the back of the book, along with a glossary too.
This is a series of books that I can see both girls and boys really sinking their teeth into, and actually wanting to read. If you are after buying a book for a child, or teen for that matter, that you hope will grab them and have them eager to read, then I can 100% suggest this book, or even the series (there are three books currently published).
Reviewed by Stacey

---
About the Author

Hailing from Essex, I graduated from Harrow College (University of Westminster) with a degree in Illustration in 1992. After discovering the hidden world of small press comics, I took the plunge with my own comics creating various titles such as "Great!", "Little Box of Comics" and "Stupidmonsters".
In 2002 I jumped head-first into the deep end of children's publishing with the position of in-house illustrator at Eaglemoss Publications, where I worked for five years on amazing projects such as Horrible Histories, Horrible Science and The Magical World Of Roald Dahl.





---