The Haunting of Room 909 by Michael James – Book Review
The Haunting of Room 909 by Michael James – Book Review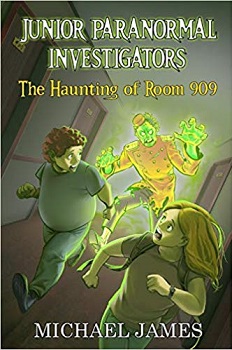 The Haunting of Room 909
Junior Paranormal Investigators Book One
Author – Michael James
Publisher – lulu.com
Pages – 146
Released – 24th April 2019
ISBN-13 – 978-0359597437
Format – ebook, paperback
Reviewer – Stacey
Rating – 4 Stars
I received a free copy of this book.
This post contains affiliate links.
Summer is usually a time of fun and games for most children, but Hanna and Ben Littleton are not your average eleven and twelve-year-old. Their father is Percy Littleton, a famous paranormal investigator, and this summer they are traveling to different locations to investigate unexplained phenomena.
Things are rather boring until they stop at Castleridge Hotel. Though warned by their father not to meddle in his investigation, the brother and sister are convinced they can prove their worth as true investigators. Their eagerness soon turns to terror when Hanna begins having visions about a certain former employee of the hotel, the elevator takes them to the ninth floor on its own, and ghosts interact with them.
The building seems to have a mind of its own as Hanna and Ben are forced to figure out what really happened one hundred years ago at Castleridge Hotel, before the spirits trapped inside decide to make them permanent residents.
Brother and sister Ben and Hanna Littleton live with their dad Percy who is a paranormal investigator. The two siblings enjoy helping their father out with his work and often go with him when he travels to investigate reports of ghosts being seen or causing a disturbance.
When Percy is called to help rid a hotel of ghosts that seem to be increasing in power he tells his children they can attend but they must not get involved as the hotel ghost is said to be particularly dangerous.
After checking into the hotel Percy leaves the children in their hotel room telling them they must not go to the ninth floor which is where all the ghostly activity has been happening. But kids being kids, the two can't help themselves and decide to see for themselves what all the fuss is about, but with a maniac hotel Bellhop who died nearly 100 years ago on the loose and his victims trying to escape from him the children find themselves caught up in the middle of this ghostly battle.
The Haunting of Room 909 is the first book in a new middle-grade series called Junior Paranormal Investigators. The book is set in Banff, Canada and revolves around Ben and Hanna who want to be paranormal investigators like their dad Percy. Their dad hadn't always had this job though, he started after his wife disappeared into a bright light one night three years ago.
The children are typical kids, fun, cheeky and don't always do as they are told. They see how their dad's job looks like a lot of fun and decide that they have seen their father work on enough sites to know how to be investigators of their own.
The book is engaging and exciting. The book does feature numerous ghosts and one particularly nasty one too, so if you have a child that is easily scared I would suggest that you don't let them read this book, however for those that love a good paranormal book, this would be perfect.
This is a great start to what looks like is going to be a wonderful series featuring two very bright and brave siblings, oh and their dad too. I hope in the future we get to find out what happened to their mum as the way her disappearance was told was more of a UFO abduction that ghostly activity, so I'm wondering if there will be a cross over between the two at some point.
Book Reviewer – Stacey
---
Purchase online from:
---
About the Author

Michael James is an author from the prairie province of Alberta, Canada. He is an avid golfer, cyclist, and astronomy enthusiast.
Junior Paranormal Investigators: The Haunting of Room 909 is Michael's debut novel for middle grade readers.
After absorbing all things paranormal while growing up, he knew he had to share his fascination with ghosts and other-worldly-creatures with the next generation of kids.




---
What did you think of the book? Share your thoughts in the comment section below!
---
The above links are affiliate links. I receive a very small percentage from each item you purchase via these link, which is at no extra cost to you. If you are thinking about purchasing the book, please think about using one of the links. All money received goes back into the blog and helps to keep it running. Thank you.
Like us on Facebook – Tweet us on Twitter – Pin us on Pinterest
If you enjoyed our post please feel free to share it using the social media links below.