Concrete Rose by Angie Thomas – Book Review
Concrete Rose by Angie Thomas – Book Review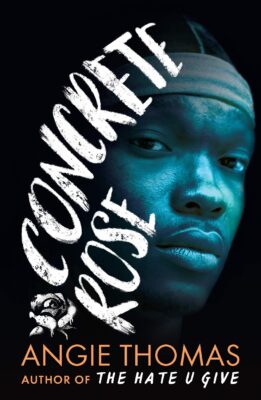 Concrete Rose
Author – Angie Thomas
Publisher – Walker Books
Pages – 336
Released – 12th January 2021
ISBN-13 – 978-1406384444
Format – ebook, paperback
Rating – 5 Stars
This post contains affiliate links.


Synopsis
From international phenomenon Angie Thomas comes a hard-hitting return to Garden Heights with the story of Maverick Carter, Starr's father, set seventeen years before the events of the award-winning The Hate U Give.
With his King Lord dad in prison and his mom working two jobs, seventeen-year-old Maverick Carter helps the only way he knows how: slinging drugs. Life's not perfect, but he's got everything under control. Until he finds out he's a father…
Suddenly it's not so easy to deal drugs and finish school with a baby dependent on him for everything. So when he's offered the chance to go straight, he takes it. But when King Lord blood runs through your veins, you don't get to just walk away.
Concrete Rose is the prequel to the amazing YA novel 'The Hate You Give' which was released in 2017. The book is predominantly about Maverick Carter who is the father of the protagonist Starr from the first book. If you haven't read, The Hate you Give, then I'm not sure this book will mean that much to you.
Seventeen-year-old Maverick (Mav or Lil Don) lives with his mum. He has no siblings and his father who was the King Lord of the neighbourhood is in prison. Maverick has followed in his father's footsteps selling drugs, that is until he unexpectedly becomes a father and is left holding the baby when the mother ups and leaves Maverick with their child. Now Mav needs to be responsible.
Mav gets a part-time job at the local shop and is still at school but with his son needing more and more things and seeing his friends with flash new items can Mav stay on the straight and narrow or is the lure of easy money too much for him to keep away from?
I was so eager to read Concrete Rose as I adored The Hate you Give and Maverick is a fabulous character in it. Always teaching his children to be responsible and how to behave around the police, etc. I was intrigued to read his backstory and whilst there are sixteen-years we still don't know about as this book ends before Starr is born, it was fascinating to see Mav as a young lad who had to grow up quickly and what shaped his life.
The characters are truly amazing. It was fun to see some characters from the first book making an appearance in their younger years. I do wonder if there will be an in-between book, especially as we never get to witness any real beef between Mav and King like in The Hate you Give, or if I am remembering rightly (It has been a few years since I read the first book), Mav does a stint in prison, but this would have been in the missing years.
Angie Thomas has a way with words. She pulls you in the story and you can feel, hear, and be a part of every chapter. I certainly became emotionally involved in the plot and got angry when Mav did and upset when he did too. The setting is easy to visualise too and I would love to see them adapt this book as well.
This is a book that you must read if you read and loved the first. It is superb. You can tell how good a book is when you start going slower towards the end as you don't want it to end. I now can't wait for more novels from Ms. Thomas.
Purchase Online From:
---
What did you think of 'Concrete Rose'? Share your thoughts in the comment section below!
---
The above links are affiliate links. I receive a very small percentage from each item you purchase via these link, which is at no extra cost to you. If you are thinking about purchasing the book, please think about using one of the links. All money received goes back into the blog and helps to keep it running. Thank you.
Like us on Facebook – Tweet us on Twitter – Pin us on Pinterest