Rebel by Marie Lu – Book Review
Rebel by Marie Lu – Book Review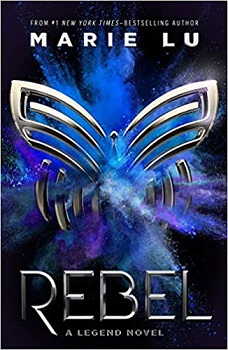 Rebel
Legend Series Book Four
Author – Marie Lu
Publisher – Roaring Brook Press
Pages – 384
Released – 1st October 2019
ISBN-13 – 978-1250221704
Format – ebook, paperback, hardcover, audio
Review by – Stacey
Rating – 4.5 Stars
I received a free copy of this book.
This post contains affiliate links.
Respect the Legend. Idolize the Prodigy. Celebrate the Champion. But never underestimate the Rebel.
With unmatched suspense and her signature cinematic storytelling, #1 New York Times-bestselling author Marie Lu plunges readers back into the unforgettable world of Legend for a truly grand finale.
Eden Wing has been living in his brother's shadow for years. Even though he's a top student at his academy in Ross City, Antarctica, and a brilliant inventor, most people know him only as Daniel Wing's little brother.
A decade ago, Daniel was known as Day, the boy from the streets who led a revolution that saved the Republic of America. But Day is no longer the same young man who was once a national hero. These days he'd rather hide out from the world and leave his past behind. All that matters to him now is keeping Eden safe–even if that also means giving up June, the great love of Daniel's life.
As the two brothers struggle to accept who they've each become since their time in the Republic, a new danger creeps into the distance that's grown between them. Eden soon finds himself drawn so far into Ross City's dark side, even his legendary brother can't save him. At least not on his own . . .

One of the first reviews I ever wrote on the blog back in 2015 was for the first book in the Legend series which I read originally in 2011, aptly names 'Legend'. If you have never read the books, they are dystopian YA reads featuring two main characters, June and Day. June was born into a wealthy area once know as Western USA and Day into the slums who grew up to become one of the countries most wanted criminals.
The pair meet after June's older police officer brother is killed in the line of duty and Day is the chief suspect. June makes it her mission to bring in Day dead or alive. I won't go into too much detail in case you haven't read the books.
In this fourth and final instalment in the series written six years after the last book 'Champion' and set ten years later we again meet June and Day, now known by his real name Daniel, and Daniel's younger brother Eden. Both Daniel and Eden are living in Antarctica city where everyone is given different numbered levels based on their job, home-life, personality, how good they are, etc. Those with a zero score live off the grid in Ross City.
Daniel is an officer sworn to protect the residents and Eden is a college student who likes to rebel and spend his time down in Ross City. He's fed up with living in Daniel's shadow. June is still working as a Princeps-Elect to Elector Anden. Since going their separate ways ten years ago, Daniel's memory is slowly returning and he's remembering his feelings for June, but are they too far apart now?
At the end of my review of Champion in July 2015 my final words were 'I was sorry that the trilogy had finished and wished that it had gone on, but all good things must come to an end.', so I was taken aback when I learned that Marie Lu had penned another novel to the series and didn't need to think twice about purchasing it. I hoped that she would write the ending for Daniel and June differently this time.
The book was told from the POV of Daniel and Eden, though June is still part of the story. Daniel is no longer the 'big' hero he was ten years ago, though he is incredibly resourceful and superb at his job which includes bringing a dangerous criminal to justice that they have been trying to locate for some time.
Eden is no longer a little kid. He's grown up being known as Daniel's little brother rather than himself and he's fed up with it. He's also an expert in engineering and loves to race drones, something that is banned in Antarctica.
It felt a little strange at first having the same characters but not in a dangerous, fighting setting but in a war-free zone where they all had new lives. I still had the same excitement about the book though and raced through it. My tiny disappointment was that I did want to see more of June as she was one of the main characters in the first three books. In this one, it felt like she had been given a back seat whilst Daniel and Eden took over. It also felt weird to read Daniel instead of Day.
Overall, I think this last book in the series Rebel, needed to be written. I was never happy with the way Champion ended and this ending was perfect, so much so, that I do now hope that this is the end of the series.
For anyone that has read the first three books, Rebel is a must-read. If you haven't read them and you love dystopian novels given them a read they are truly amazing.
Book Reviewer – Stacey
---
Purchase online from:
---
About the Author

Marie Lu is the #1 New York Times-bestselling author of the Legend series, The Young Elites trilogy, Batman: Nightwalker, and the Warcross series. She graduated from the University of Southern California and jumped into the video game industry, where she worked as an artist.
Now a full-time writer, she spends her spare hours reading, drawing, playing games, and getting stuck in traffic. She lives in the traffic-jam capital, Los Angeles, with her illustrator/author husband, Primo Gallanosa, their Pembroke Welsh corgi, and their Chihuahua-monster mix.





---
What did you think of Rebel? Share your thoughts in the comment section below!
---
The above links are affiliate links. I receive a very small percentage from each item you purchase via these link, which is at no extra cost to you. If you are thinking about purchasing the book, please think about using one of the links. All money received goes back into the blog and helps to keep it running. Thank you.