Legal Crime by Samiksha Bhattacharjee – Book Review
Legal Crime by Samiksha Bhattacharjee – Book Review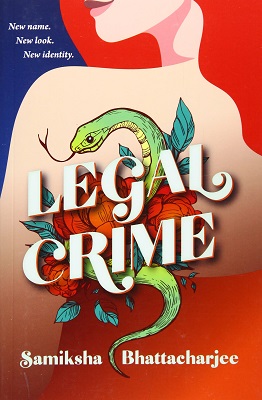 Legal Crime
Author – Samiksha Bhattacharjee
Publisher – The Conrad Press
Pages – 193
Released – 15th February 2021
Format – ebook, paperback
Rating – 3.5 Stars
I received a free copy of this book.
This post contains affiliate links.


Synopsis
This exciting and captivating page-turner transports you into the fascinating story of sixteen-year-old aspiring singer Fiona Watson who runs away from her family, oblivious to the dangers outside her shielded comfort zone. As she journeys through her new world, leaving her past behind and determined to find a new identity, she uncovers surprising secrets buried deep within her long ago…
How do her new friends link to her past? What secrets are they hiding behind their misleading smiles? How much of herself has she really left behind? And how will she cope when she realises that she has made a huge mistake… one that could ruin her forever?
For a debut novel by a thirteen-year-old author, this is an incredible achievement and the perfect read for young adults. It's fast-paced and Bhattacharjee's wonderful descriptions are very accomplished and dynamic for an author of her young years.
Sixteen-year-old Fiona Watson feels snubbed by her parents who she believes favour her eight-year-old younger brother, Jack, and she decides to run away from home. She's keen to become a singer and as the story unfolds, it's clear that it is not just her parents that have led her to want to run away as she has clearly been having issues at school with her best friend, Luna, and the pressure she feels to hang out with the 'popular girls'.
Through her journey, she meets a wonderful group of friends who help her in discovering herself and deciding inevitably whether she should return home as she begins to regret her decision. But as she opens up, can Fiona, or as she now likes to be known, Isabelle Smith, truly trust these new friends and what secrets they are hiding. Fortunately for Fiona, her parents are hot on her tail and despite embracing the newly created persona of Isabelle Smith, she always returns to her familiar self, Fiona.
On occasions, I did find it difficult to follow the story as the time-based jumps are sometimes a bit hard to follow but all in all, it's incredibly imaginative for an author of her age and I think she has a wonderful future in writing.
This is a lovely tale of friendship draped in an adventure story, with the theme clearly about identity. This book is perfect for teens and their struggles with the pressure of fitting in and how they should look, the force of destiny, and where it can lead.
This is the perfect read for Young Adults.
Purchase Online From:
---
What did you think of 'Legal Crime'? Share your thoughts in the comment section below!
---
The above links are affiliate links. I receive a very small percentage from each item you purchase via these link, which is at no extra cost to you. If you are thinking about purchasing the book, please think about using one of the links. All money received goes back into the blog and helps to keep it running. Thank you.
Like us on Facebook – Tweet us on Twitter – Pin us on Pinterest – Join us on Instagram