The Teenage Guide to Friends by Nicola Morgan – Book Review
The Teenage Guide to Friends by Nicola Morgan – Book Review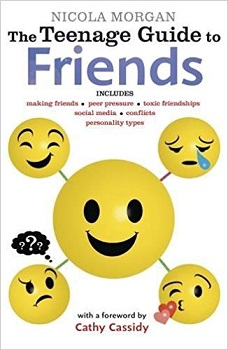 The Teenage Guide to Friends
Author – Nicola Morgan
Publisher – Walker Books
Pages – 256
Release Date – 4th May 2017
ISBN-13 – 978-1406369779
Format – ebook, paperback
Reviewer – Stacey
I received a free copy of this book
Post Contains Affiliate Links

Nicola Morgan is an established expert on the teenage brain and adolescent stress, known for her engaging, clear style. She is author of the internationally renowned Blame My Brain: The Amazing Teenage Brain Revealed (shortlisted for the Aventis prize for science) and The Teenage Guide to Stress (winner of the School Library Association Award 2015, with both the judges' and readers' awards).
Now The Teenage Guide to Friends – written for teenagers but essential for adults who want to understand – tackles the all-important subject of teen friendships. Contents include a section on making friends, keeping friendships strong, and what happens when they break down – as well as a look at online friendships, cyber-bullying, toxic friendships and frenemies, and empathy.
There is also a section on personality types – introverts and extroverts – and quizzes to help you discover what sort of person you are, how you relate to others and how to deal with difficult situations. Complete with a list of helpful resources in the back.

The Teenage Guide to Friends does exactly what it says on the tin!!
Being the mum of three boys, one soon to enter his teenage years, one currently a teenager, and the other just finished his teens, now aged 20, I was eager to see what words of wisdom the author had to offer, especially as there was nothing like this when I was growing up.
The book is split into four main sections:-
– What are Friends
– Making and Managing Friendships
– Empathy
– Behaviour and Personality
Each of these sections then covers a variety of subjects that come under the chosen title.
There are pages on negative friendships, social media friends, not fitting in, nasty people, and family position, to name but a few.
The author offers some credible and helpful information that teens will easily be able to understand. With the world we currently live in friendships come and go fast, especially those that are made online (not in my day). This book helps to emphasise how valuable the right friends are, and how not to put up with negative friends, such as those 'friends' that seem to control you etc.
Whilst I do agree with a lot that the author has to offer, from my own personal experience with my children, I most certainly don't agree with it all. The author states that a friendship with someone older or younger is not an equal friendship. Even back in my day I had friends who definitely were my equal, that were both older and younger. Some of my sons friends are not the same age, yet they are equal.
The section that covers family positions also annoyed me slightly. The author seems to be tarring every family with the same brush. The section covers where teenagers fit into their family, such as oldest, middle or youngest child. She then goes on to explain what that teenager will be like. For example, Middle Child – He or She has a good chance of feeling insecure… They often have to work hard to please other people.
Now from my own experience, this has never been the case. I wondered if this was the case with other peoples families so I asked a few, all came back with the answer that this isn't how their middle child feels/felt.
I do think that The Teenage Guide to Friends is a great asset for those teenagers that may be having problems with friends, feeling lonely, or not knowing how to make friends. Teenagers can pick up the book, read the section that they most need, and put it down for a later date – a bit like an encyclopaedia, if they don't wish to read it like a novel.
The author has also included quizzes and a resource sections, should they been needed.
Book reviewed by Stacey
Purchase Links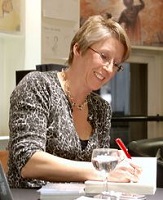 Nicola Morgan is an international speaker and award-winning author for and about teenagers and an expert on adolescence, stress and wellbeing, including the effects of the Internet and social media and the science of reading for pleasure and wellbeing.
She has written nearly 100 books, including award-winning novels such as Wasted, Fleshmarket and Mondays are Red, but she has become increasingly well known for her passionate factual work on adolescence and wellbeing, with her 2005 book on the teenage brain, Blame My Brain, shortlisted for the Aventis prize and The Teenage Guide to Stress winning the School Library Association award in both the readers' and the judges' categories. Both those titles are on the Books on Prescription scheme, making her the only author with two books selected.
The Teenage Guide to Friends was published in 2017 and she is currently writing two other books, Positively Teenage and Life Online. A former teacher and dyslexia specialist, Nicola now writes and speaks internationally on a wide variety of subjects relating from adolescence to the Internet.
Author Links
www.nicolamorgan.com
@nicolamorgan
Facebook
Pinterest
Goodreads