Last Chance Books by Kelsey Rodkey – Book Review
Last Chance Books by Kelsey Rodkey – Book Review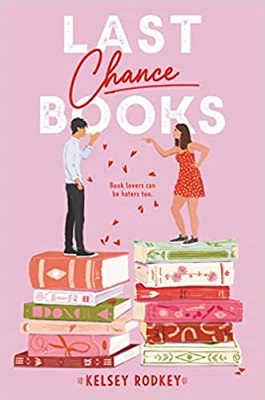 Last Chance Books
Author – Kelsey Rodkey
Publisher – HarperTeen
Pages – 368
Released – 18th May 2021
ISBN-13 – 978-0062994462
Format – ebook, hardcover, audio
Rating – 4 Stars
I received a free copy of this book.
This post contains affiliate links.


Synopsis
You've Got Mail meets Morgan Matson in this smart, banter-filled romcom with a bookish twist.
Nothing will stop Madeline Moore from taking over her family's independent bookstore after college. Nothing, that is—until a chain bookstore called Prologue opens across the street and threatens to shut them down.
Madeline sets out to demolish the competition, but the guy who works over at Prologue seems intent on ruining her life. Not only is he taking her customers, he has the unbelievable audacity to be… extremely cute.
But that doesn't matter. Jasper is the enemy and he will be destroyed. After all—all's fair in love and (book) war.
In this YA romance book, we meet Madeline Moore who is at college and works at Books & Moore her family-run bookstore. She loves the place that was started by her grandmother and wants to keep it in the family. However, the book shop is in trouble, the rent has been increased and the business isn't doing as well as it used to. With that in mind, her aunt wants to close it when their lease is up in three months.
Madeline blames the new chain bookstore, Prologue, which has opened up across the street supervised by the owner's son, Jasper, who happens to be gorgeous, sexy, and talented, although he has started copying her selling techniques and Madeline is livid. This is war. She is determined to not let them drive Books & Moore out of business, she is also determined that she is not going to fall for Jasper either.
I love books set in bookshops, so the idea of two rival bookshops being at war with one another had me eager to read Last Chance Books. For those of you who are bookish and want to dive into the story, just a note that this is a YA book not an adult romance/enemies to lovers book, so some might find it a little young for them. For me, I love the pace of YA books and didn't mind the young characters who often didn't handle situations well, be warned though if you don't like foul language as there is a lot of banter between the characters that included it.
I got through the story quickly as I found myself turning the pages at speed keeping up with all the goings-on. Madeline has a complicated life, including a mother who has been absent for most of it and so she was brought up by her aunt, however, her mother is back and once again she tells Madeline that she is here to stay this time, or until Madeline's younger brother heads off to college in two years.
There was a decent amount of humour within the pages and I did giggle a few times out loud. With its fun plot, complex but likeable characters, and set in a location all bookworms love, this was an interesting, easy-going enjoyable read.
Purchase Online From:
---
What did you think of 'Last Chance Books'? Share your thoughts in the comment section below!
---
The above links are affiliate links. I receive a very small percentage from each item you purchase via these link, which is at no extra cost to you. If you are thinking about purchasing the book, please think about using one of the links. All money received goes back into the blog and helps to keep it running. Thank you.
Like us on Facebook – Tweet us on Twitter – Pin us on Pinterest – Join us on Instagram