Titans: The Rise of Legends by C.J. Lloyd – Book Review
Titans: The Rise of Legends by C.J. Lloyd – Book Review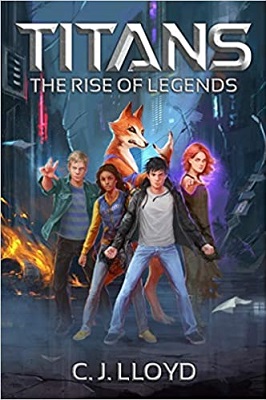 Titans: The Rise of Legends
Titans Saga Book One
Author – C.J. Lloyd
Pages – 349
Released – 22nd April 2020
ISBN-13 – 978-1734876406
Format – ebook, paperback
Review by – Stacey
Rating – 4.5 Stars
I received a free copy of this book.
This post contains affiliate links.


A high school outcast discovers he has the power to manipulate dark energy and matter, but some good things come at a frightening cost…
Fifteen-year-old Elric Blake always saw himself as a comic-book-loving geek, never a superhero. But when a black hole releases a monstrous horde upon his small New England town, something within awakens, giving Elric powers and abilities he only read about in his comics. But this god like entity's goal is far from heroic.

Fifteen-year-old comic book mad Elric Blake has been brought up by his adopted parents, Mr & Mrs. Lee. He never knew his real parents but he assumed that they didn't want him and so gave him up for adoption when he was a baby. In reality, the truth is very different.
The first time he notices something maybe different within him is when his best friend and the girl of his dreams Jen is knocked out by the school bully, Simon. Elric feels this rage and burning within him and subsequently, the bully walks away with a broken wrist, unfortunately, this just exacerbates Simon.
On the day of the big soccer game for the town, a darkness comes over the place and strange talking animals run havoc killing the people. When someone close to Elric is killed this strange feeling within him reawakens, but is what inside of him truly good, or are his powers something more sinister?
From the opening chapter which takes us back in time and sees Elric's parents on the run from government forces who want them dead and also Elric, we see the heart-wrenching decision they make to leave their son in an abandoned building, hoping that someone will find him and take care of him to keep him safe.
The story then moves forward fifteen years and Elric presumes he is a normal teenager with normal teenager problems, school work, girl crushes, and bullies. It is not until the world is invaded that Elric and his powers come to life.
You can tell from the scenes and the plot that the author is a big superhero fan and if you are a comic book fan and want something a little longer and more in-depth that is along the same lines then this book would be perfect. It is full of action and adventure and out of this world characters.
There are a lot of characters and trying to keep up with them all was a little bit of a struggle and there were a few grammatical errors but these didn't take away the thrill of the book and I have a feeling a lot of people won't even notice them.
Overall, Titans: The Rise of Legends was a real roller-coaster of a ride. It is fun, exciting, and takes you on a journey as Elric discovers who he is and what he is capable of, plus, book two is already out so you can continue on the journey with the cast.
Titans Reviewer – Stacey
---
Purchase online from:
---
About the Author

C.J Lloyd was born in Boston Massachusetts. A fan of all things Marvel, Star Wars, and Anime. He dreams of going to a Comicon and Animecon! C.J spent 14 years in the army, joining while still in high school, and attended Husson University where he majored in Business and Military Science. His writing journey started in 2007 after graduating high school and the seeds blossomed, with the rough…very ROUGH, draft of TITANS: The Rise of Legends.
When he's not reading or crushing dreams in call of duty, C.J can be found in his mancave/ Fortress of solitude working on his next project. He resides in Maine, with his wife Stephanie, and son Isaiah A.K.A Izzy.



---
What did you think of Titans: The Rise of Legends? Share your thoughts in the comment section below!
---
The above links are affiliate links. I receive a very small percentage from each item you purchase via these link, which is at no extra cost to you. If you are thinking about purchasing the book, please think about using one of the links. All money received goes back into the blog and helps to keep it running. Thank you.
Like us on Facebook – Tweet us on Twitter – Pin us on Pinterest