The Girl Who Was Convinced Beyond All Reason That She Could Fly by Sybil Lamb – Book Review
The Girl Who Was Convinced Beyond All Reason That She Could Fly by Sybil Lamb – Book Review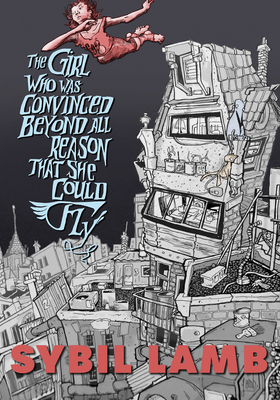 The Girl Who Was Convinced Beyond All Reason That She Could Fly
Author – Sybil Lamb
Publisher – Arsenal Pulp Press
Pages – 105
Released – 1st November 2020
ISBN-13 – 978-1551528175
Format – ebook, paperback
Review by – Stacey
Rating – 3 Stars
I received a free copy of this book.
This post contains affiliate links.


In a rusted unnamed city full of five-dollar hotels and flea markets, a young homeless girl named Eggs is trying to make her way in the world. She's shy and bold at the same time, and wary of strangers, but she is convinced beyond all reason that she can fly.
And fly she does, from rooftop to rooftop, from chimneys to phone wires; she scurries up the sides of buildings, and sneaks into secret lairs. Eggs is a loner but she makes two friends: Grack, who sells 100 different kinds of hot dogs from his bicycle cart, and Splendid Wren, a punk rocker whose open window Eggs came crashing through one night. Both Grack and Splendid Wren try their best to protect her, but Eggs meets her match when on a cold night she swoops onto a rooftop and steals a warm jacket belonging to Robin, a neighbourhood baddie with anger management issues. Can Eggs elude his wrathful revenge?
Beguiling and otherworldly, The Girl Who Was Convinced Beyond All Reason That She Could Fly is a fevered dream about a young girl's flights of fancy in order to survive, and to thrive.

A young girl given the name Eggs because of her only T-shirt with Eggs written on the front is convinced that she can fly. She soars between rooftops and up the side of buildings. One day she catches the eye of Grackle McCart who runs the family hotdog business selling 100 different types of hotdogs.
Eggs and Grackle become friends, but Grackle wants them to have more of a friendship than just Eggs soaring around his cart each day so he takes her back to his apartment. Eggs doesn't like being indoors and so she zooms off and soon ends up crashing into the window of Splendid Wren a punk rocker. The two become firm friends.
When Eggs ends up taking local bully, Robins, jacket, she is in serious trouble as he wants to teach her a lesson about taking other people's stuff.
The Girl Who Was Convinced Beyond All Reason That She Could Fly is marketed as a graphic novel but it's not like ones that I have read before (or the copy I had wasn't like others). The full-page illustrations we on separate pages to the writing, where others I have read have the text and illustrations merged. However, I can't say this took anything away from the story.
The book is unusual. Not only because it is about a girl who could 'fly' but the whole plot was unusual though at times it felt a little disjointed. The book is twelve chapters long and my own personal thoughts are that it is too long. It sometimes felt like the author had a ton of ideas to go into the book and decided to add them all.
The characters were intriguing and Eggs was a character that is used to being on her own and doesn't trust others easily nor does she understand how to get along with people fully in a friendship capacity. I didn't find her a likeable person but then I didn't dislike her either, I didn't have any feelings towards her.
The illustrations are jagged and dark but they work well with the plot which is a tale of friendship, survival, homelessness, and self-respect. The book is very urban and perhaps the younger generation may understand and appreciate the book far more than I did.
If you enjoy books that are a few steps away from the norm and include a plot that you will never have read before and is a little wacky then this is the book to try.
The Girl Who Was Convinced Beyond All Reason That She Could Fly Reviewer – Stacey
---
Purchase online from:
---
About the Author
Sybil Lamb is the author of the illustrated YA novel The Girl Who Was Convinced Beyond All Reason that She Could Fly. Her writing and art have appeared in books, magazines, comix, alleys and tattoos. Her novel I've Got a Time Bomb was published by Topside Press.





---
What did you think of The Girl Who Was Convinced Beyond All Reason That She Could Fly? Share your thoughts in the comment section below!
---
The above links are affiliate links. I receive a very small percentage from each item you purchase via these link, which is at no extra cost to you. If you are thinking about purchasing the book, please think about using one of the links. All money received goes back into the blog and helps to keep it running. Thank you.
Like us on Facebook – Tweet us on Twitter – Pin us on Pinterest