Loveless by Alice Oseman – Book Review
Loveless by Alice Oseman – Book Review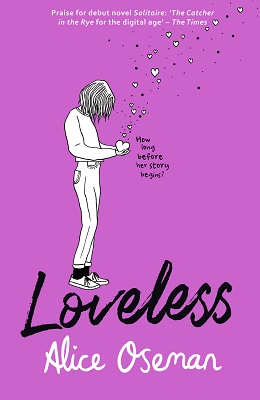 Loveless
Author – Alice Oseman
Publisher – HarperCollinsChildren'sBooks
Pages – 448
Released – 9th July 2020
ISBN-13 – 978-0008244125
Format – ebook, paperback, audio
Review by – Stacey
Rating – 4 Stars
I received a free copy of this book.
This post contains affiliate links.


It was all sinking in. I'd never had a crush on anyone. No boys, no girls, not a single person I had ever met. What did that mean?
Georgia has never been in love, never kissed anyone, never even had a crush – but as a fanfic-obsessed romantic she's sure she'll find her person one day.
As she starts university with her best friends, Pip and Jason, in a whole new town far from home, Georgia's ready to find romance, and with her outgoing roommate on her side and a place in the Shakespeare Society, her 'teenage dream' is in sight.
But when her romance plan wreaks havoc amongst her friends, Georgia ends up in her own comedy of errors, and she starts to question why love seems so easy for other people but not for her. With new terms thrown at her – asexual, aromantic – Georgia is more uncertain about her feelings than ever.
Is she destined to remain loveless? Or has she been looking for the wrong thing all along?
This wise, warm and witty story of identity and self-acceptance sees Alice Oseman on towering form as Georgia and her friends discover that true love isn't limited to romance.

Eighteen-year-old Georgia has never been in love, had a crush on a guy or a girl, and never been kissed. She has told friends for years that she fancies one of the lads from school but when he makes his move on prom night she is disgusted with herself and realises that it was all an act and that she has never felt that way about anyone, nor does she want to be kissed.
When she moves to Durham University with her friends Pip and Jason she is hoping that her feelings towards kissing and sex may change and sets about trying to be like everyone else and find that special someone with the help of her new roommate and their acting club. However, romance and dating are not easy to come by for Georgia like they are for others and so she questions why she is loveless.
Loveless is a YA book about a young girl who feels different as she has never had a moment of passion or even had butterflies over someone else. She knows all about romance and what she likes, such as a big white wedding. It is just actually having another person to share her life with, or even just kiss that she can't understand. She doesn't feel that way about other people. Yes, she cares about others but not in a sexual way.
Being an adult and married with three kids I'm quite sure this book isn't aimed at me but as it was sent by the publishers to review I jumped in and I'll be honest I wasn't expecting to enjoy it as much as I did. I wasn't sure I would be able to make a connection to the plot of the characters, but then I think knowing someone who identifies as Asexual, I could see some aspects of the book from their point of view.
The book is a real heart-warming read and I hope that helps someone who feels the same can understand themselves better and realise that they are normal. It is not only about sexual feelings or lack of, it is also about being accepted, trying to fit in, and friendship.
Loveless is a really lovely read that I'm glad I took a chance on. This is my first Alice Oseman book but with writing so endearing and touching it won't be my last.
Book Reviewer – Stacey
---
Purchase online from:
---
About the Author

Alice Oseman is an author/illustrator and was born in 1994 in Kent, England. She has written four YA contemporary novels about teenage disasters: SOLITAIRE, RADIO SILENCE, I WAS BORN FOR THIS, and LOVELESS. She is also the creator of LGBTQ+ YA romance webcomic HEARTSTOPPER, which is now published in physical form by Hachette Children's Books.
Alice's first novel SOLITAIRE was published when she was nineteen. Her YA novels have been nominated for the YA Book Prize, the Inky Awards, and the Goodreads Choice Award, and HEARTSTOPPER has been optioned for TV. She can usually be found staring aimlessly at computer screens, questioning the meaninglessness of existence, or doing anything and everything to avoid getting an office job.





---
What did you think of Loveless? Share your thoughts in the comment section below!
---
The above links are affiliate links. I receive a very small percentage from each item you purchase via these link, which is at no extra cost to you. If you are thinking about purchasing the book, please think about using one of the links. All money received goes back into the blog and helps to keep it running. Thank you.