The Revenge of Joe Wild by Andrew Komarnyckyj – Book Review
The Revenge of Joe Wild by Andrew Komarnyckyj – Book Review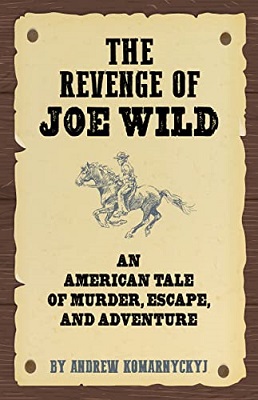 The Revenge of Joe Wild
Author – Andrew Komarnyckyj
Publisher – Santa Monica Press
Release Date – 12th July 2022
Pages – 288
ISBN 13 – 978-1595801111
Format – ebook, paperback
Star Rating – 5
I received a free copy of this book.
This post contains affiliate links.

Synopsis
The Revenge of Joe Wild is a young adult novel about a semi-literate 12-year-old boy growing up in mid-19th century Southern Illinois, an outsider who can't fit in with the norms of society. When Joe is accused of murdering his friend Ervan Foster, he flees the authorities and goes on the run, vowing to one day return as an adult, find out who the real killer is, clear his name, and avenge Ervan's death.
While on the run, Joe has many funny, dangerous, and eye-opening adventures which include joining the Union army and fighting in the American Civil War. When the war ends, Joe returns to his hometown, an armed and battle-tested sixteen-year-old. He confronts his accusers, but when Joe finds out the truth behind Ervan's murder, he makes peace with the man who falsely accused him, as well as with himself.
In the great tradition of such 19th-century American authors Mark Twain, James Fennimore Cooper, and Stephen Crane, The Revenge of Joe Wild is a humorous, tense, action-filled novel set against the dramatic backdrop of the Civil War, with themes involving racism, sexuality, and misinformation that are just as relevant in the 21st century as they were during the time of Joe Wild.
Fans of historical fiction, the American Civil War, and coming-of-age stories will love this one. The Revenge of Joe Wild follows a young boy living in rural Illinois during the years leading up to the Civil War and during the conflict. He's quite literally "dirt poor," obtaining most of his food from hunting and trapping in the woods. The story begins with his life in his small town, his framing for murder, his escape, and his time fighting for the north.
What's so engaging and fascinating about this story is that it feels like a Mark Twain or Faulkner novel due to the writing style, but racism, poverty, slavery, and even sexuality are approached from a modern perspective, in that while nothing feels anachronistic, it's clearly a dissection of these themes. The book is written with a very specific phonetic style that makes it feel like an authentic tale from that era. It's honestly quite masterful.
It's hard to explain, but the book feels like Twain, but without the problematic language and 19th-century ideology hampering it. Joe's burgeoning sexuality is addressed, as is the repression of homosexuality. Slavery is shown to be what it was: horrendous, and Joe's learning curve towards it was realistic for a boy of his age and the time period he lived in.
The research that must have gone into this book is incredibly impressive. You can tell that every little thing was considered, from clothing, to the battles, and, as I said, the dialogue and vernacular.
What's really interesting about this novel is that there is no real antagonist. People who seem like they will be villains are just … people. Even Joe's parents, who by today's standards would be considered terribly abusive and neglectful, were surprisingly human, and Joe's arc surrounding them was touching. And on top of all this, while I wouldn't call the novel "funny," it carries a very interesting tone that is enthralling and hard to classify. It's unique and hard to put down.
Overall, this book is a fascinating slice of life that shows what life for an average white boy was like in the 1860s.
---
Purchase Online:
Andrew Komarnyckyj

Andrew Komarnyckyj has been a lawyer, odd-job man, PR Consultant, hospital porter, and plongeur among many other occupations. It's the classic work history of an author but it wasn't planned that way. It was a happy accident which has stood him in good stead for writing novels.
His literary tastes range across every fiction genre including – perhaps inevitably – postmodernism, with which he has a love-hate relationship.
When not writing or reading he loves conversation, listening to anecdotes, craft beers, and hiking in mountains. He's married with two adult daughters.
Andrew Komarnyckyj writes as Jack D McLean and A K Reynolds.
Author Links:
---
The above links are affiliate links. I receive a very small percentage from each item you purchase via these links, which is at no extra cost to you. If you are thinking about purchasing the book, please think about using one of the links. All money received goes back into the blog and helps to keep it running. Thank you.