Heartstream by Tom Pollock – Book Review
Heartstream by Tom Pollock – Book Review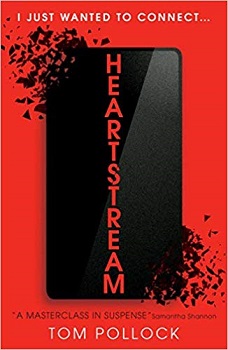 Heartstream
Author – Tom Pollock
Publisher – Walker Books
Pages – 352
Released – 4th July 2019
ISBN-13 – 978-1406378184
Format – ebook, paperback, audio
Reviewer – Stacey
Rating – 4.5 Stars
I received a free copy of this book.
This post contains affiliate links.
Cat is in love. Always the sensible one, she can't believe that she's actually dating, not to mention dating a star. But the fandom can't know. They would eat her alive. And first at the buffet would definitely be her best friend, Evie.
Amy uses HeartString, a social media app that allows others to feel your emotions. She broadcasted every moment of her mother's degenerative illness, and her grief following her death. It's the realest, rawest reality TV imaginable.
But on the day of Amy's mother's funeral, Amy finds a strange woman in her kitchen. She's rigged herself and the house with explosives – and she's been waiting to talk to Amy for a long time. Who is she? A crazed fan? What does she want?
Amy and Cat are about to discover how far true obsession can go.

On the day of her mother's funeral, Amy is broadcasting her emotions via pads attached to her head. She promised she wouldn't use the 'Heartstring' app but the lure of her social media followers was too much. After upsetting her family she travels home alone in a taxi. Upon entering her house she discovers a woman in her kitchen wearing a bomb vest and she wants to talk.
Teenager Cat is in love with Rick from the most famous band on the planet. They have their own fandom which is made up of mainly young girls who are fanatical about the group. The pair can't tell anyone that they are dating but Cat's best friend Evie is the biggest fan of the group and also a computer whizz. With footage emerging of Rick falling and a female voice yelling in the background, how long before Evie works out that that voice belongs to Cat?
Heartstream is a YA book set in the near distant future which focuses on peoples obsessions, especially via social media. Heartstring is an online app which allows users to wear pads on their head so that they can let people feel their emotions and comment on what they are feeling. Amy had millions of fans, some more fanatical than others. The app is like a drug to her and she gets her kicks from knowing how many people are enjoying her emotional feed.
Cat is a young girl who made the mistake of falling in love with someone famous. If the groupies/fans find out that Rick has a girlfriend she will be toast. This group has real fanatics who will go to any extremes to keep the illusion of Rick and his bandmate Nick as gods that can do no wrong. Cat's life is in danger if her identity is ever revealed.
Polly is the woman wearing the bomb vest in Amy's house, she has also wired the whole house too. She has been watching and waiting for this moment for a long time and now she needs Amy to listen to her. She also needs to find something that Amy's mum may have hidden before she died.
The book is told from dual POV and alternative chapters from both Amy and Cat. At first, I was sucked into Amy's story as you could feel how scared she was with some mad woman in her house planning on blowing herself and Amy up. Cat's story didn't really have me feeling anything at the beginning. She was just a young girl in love with a celebrity. However, as her story progressed I realised what it must be like for the partners of celebrities who have crazy over the top fans. I'm sure I will never understand someone who is willing to maim or hurt someone just for being with their idol.
Tom Pollock has one hell of an imagination. As the book began I had worked out that Amy and Cat must have some connection, otherwise this was going to be a book focusing on two different plots. I couldn't work out how their stories could be interwoven and was flabbergasted when the plot revealed itself. If like me you will not expect it and it will take the book in a whole different direction.
This is one amazing book that had me hooked from the beginning. Both Amy and Cat were likeable characters dealing with their own issues in life and the choices that they made that ended up with them up being in the situation they are now in. This is definitely a must-read book for 2019.
Book Reviewer – Stacey
---
Purchase online from:
---
About the Author

Tom is a long-time fan of science fiction and fantasy, and has failed spectacularly to grow out of his obsession with things that don't, in the strictest sense of the word, exist. He studied Philosophy and Economics at Edinburgh University. He now lives and works in London helping to build very big ships.


---
What did you think of the book? Share your thoughts in the comment section below!
---
The above links are affiliate links. I receive a very small percentage from each item you purchase via these link, which is at no extra cost to you. If you are thinking about purchasing the book, please think about using one of the links. All money received goes back into the blog and helps to keep it running. Thank you.