Louisiana's Way Home by Kate DiCamillo – Book Review
Louisiana's Way Home by Kate DiCamillo – Book Review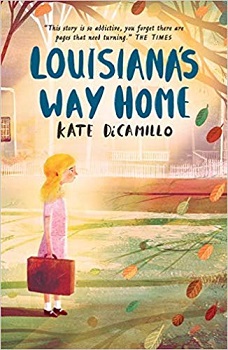 Louisiana's Way Home
Author – Kate DiCamillo
Publisher – Walker Books
Pages – 224
Released – 2nd May 2019
ISBN-13 – 978-1406385588
Format – ebook, paperback, hardcover, Audio
Reviewer – Stacey
Rating – 4.5 Stars
I received a free copy of this book.
This post contains affiliate links.
When Louisiana Elefante's granny wakes her up in the middle of the night to tell her that the day of reckoning has arrived and they have to leave home immediately, Louisiana isn't overly worried. After all, Granny has many middle-of-the-night ideas. But this time, things are different. This time, Granny intends for them never to return.
Separated from best friends Raymie and Beverly, Louisiana struggles to oppose the winds of fate (and Granny) and find a way home. But as Louisiana's life becomes entwined with the lives of the people of the small Georgia town in which they find themselves – including a surly motel owner, a walrus-like minister and a mysterious boy with a crow on his shoulder – she starts to worry that she is destined only for goodbyes. (Which could be due to the curse on Louisiana's and Granny's heads. But that is a story for another time.)
Called "one of DiCamillo's most singular and arresting creations" by The New York Times Book Review, the heartbreakingly irresistible Louisiana Elefante was introduced to readers in Raymie Nightingale and now, with humour and tenderness, Kate DiCamillo returns to tell her story.

Louisiana is woken at 3am by her Granny telling her they are leaving as the day of reckoning has arrived. Her Granny believes that there is a curse on their heads, the curse of sundering. After a few hours drive, they cross from their home in Florida into the state of Georgia.
Not long into their journey Louisiana's Granny takes ill with tooth pain and ends up at the dentist who tells her all her teeth are bad and removes them all, leaving Granny in a lot of pain and needing to rest for a while. So for the next few days a motel is their home run by a woman who hates the place and everybody who stays there.
Whilst in Georgia Louisiana meets lots of new people including bad-tempered organist Mrs. Lulu, Reverend Obertask who she thinks looks like a Walrus and the Allen family including three generations of the same name – Burke Allen. Louisiana has one wish though, she wants to go back home to her friends and pets, but Granny is determined that they will never go home again.
We first met Louisiana Elefante in Kate DiCamillo's amazing books 'Raymie Nightingale', which I reviewed back in 2016. The book is set in 1975 and followed the life of Raymie and her two best friends Beverly and Louisiana. This book is Louisiana's story.
It has been written as if it is Louisiana writing her own story so that we have evidence should something happen to her. Her Granny is very eccentric. We learn from the first book that the pair live in a house without furniture, including no TV or telephone. The only thing her Granny believed in was some curse from many, many years ago and the power of song.
Ms. DiCamillo really has a way with words and with her vivid imagination, you will find yourself being sucked into Louisiana's world and hoping that she can make it back to her friends again.
The characters are unique, interesting and bring the story to life, especially Louisiana who is learning to not be quite as scared as she normally is, this is a girl whose middle name seems to be fear, but now she needs to be brave.
The book might contain a sad story but it is not a sad book. In fact, there are plenty of amusing moments within the pages. There is also a big revelation too which not only shocks Louisiana but it will shock the reader as well.
Whether you are young or old this is an amazing read. Louisiana's Way Home can be read as a standalone but if you want to fully understand Louisiana and her Granny it is best to read Raymie Nightingale first which is an outstanding book. I was going to say I hope that Ms. DiCamillo write more books in the series but I have just found out that in September 2019 'Beverly, Right Here' is due to be release. I can't wait.
Louisiana's Way Home Book Reviewer – Stacey
---
Purchase online from:
---
Louisiana's Way Home Author Info

I was born in Philadelphia, Pennsylvania, raised in Clermont, Florida, and currently live in Minneapolis, Minnesota. I write for both children and adults and I like to think of myself as a storyteller.
Here are a few more facts about me: I am short. And loud. I hate to cook and love to eat. I am single and childless, but I have lots of friends and I am an aunt to three lovely children (Luke, Roxanne, and Max) and one not so lovely dog (Henry).
I think of myself as an enormously lucky person: I get to tell stories for a living.



---
What did you think of the book? Share your thoughts in the comment section below!
---
The above links are affiliate links. I receive a very small percentage from each item you purchase via these link, which is at no extra cost to you. If you are thinking about purchasing the book, please think about using one of the links. All money received goes back into the blog and helps to keep it running. Thank you.