The Crowns of Croswald by D. E. Night – Book Review
The Crowns of Croswald by D. E. Night – Book Review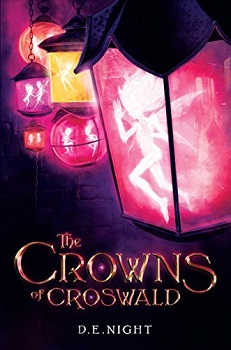 The Crowns of Croswald
Author – D. E. Night
Publisher – Stories Untold
Pages – 314
Released – 21st July 2017
ISBN-13 – 978-0996948654
Format – ebook, paperback
Reviewer – Nia
Rating – 3 Stars
I received a free copy of this book.
This post contains affiliate links.
In Croswald, the only thing more powerful than dark magic is one secret…
For sixteen years Ivy Lovely has been hidden behind an enchanted boundary that separates the mundane from the magical. When Ivy crosses the border, her powers awaken. Curiosity leads her crashing through a series of adventures at the Halls of Ivy, a school where students learn to master their magical blood and the power of Croswald's mysterious gems.
When Ivy's magic and her life is threatened by the Dark Queen, she scrambles to unearth her history and save Croswald before the truth is swept away forever.

The first thing I thought going in to this book is how heavily influenced it is by Harry Potter. It's still very much its own world and has its own quirks, but there's a lot of Potter-esque things going on.
I love the world building and magic in this story, it's fun and not something I've come across before – some of the students have stones with very specific magical traits that they have to learn to control, while others have powers related to artistic ability.
Ivy is a 16 year old orphan who's found herself cast from everything she's ever known and starting a new life that she could never have imagined (sound familiar?), and everything seems to tip in just the right direction to help her get where she needs to go.
The pacing of this book is very fast and full of action, especially once Ivy finds herself in school. She does make some friends while she's there, but I can't help but feel that she doesn't treat them very well while they're busy helping her in all her endeavours, however dangerous or badly thought out they may be. For this reason, I found it quite hard to bond with her as a character – but the world building and intrigue was enough to keep me hooked in the hope that she'll become more likable as she matures.
The writing style is very enjoyable and I think will particularly appeal to readers who are still in high school and can identify more with the characters than I did, because I found myself hoping for chapters from the perspective of some of the teachers or side characters to give it an extra flavour.
Book Reviewer – Nia
---
Purchase online from:
---
What did you think of the book? Share your thoughts in the comment section below!
---
The above links are affiliate links. I receive a very small percentage from each item you purchase via these link, which is at no extra cost to you. If you are thinking about purchasing the book, please think about using one of the links. All money received goes back into the blog and helps to keep it running. Thank you.