The Whisper Man by Alex North – Book Review
The Whisper Man by Alex North – Book Review
The Whisper Man
Author – Alex North
Publisher – Michael Joseph
Pages – 400
Released – 13th June 2019
ISBN-13 – 978-0241367490
Format – ebook, paperback, hardcover, audio
Reviewer – Stacey
Rating – 5 Stars
I received a free copy of this book.
This post contains affiliate links.
If you leave a door half-open, soon you'll hear the whispers spoken . . .
Still devastated after the loss of his wife, Tom Kennedy and his young son Jake move to the sleepy village of Featherbank, looking for a much-needed fresh start.
But Featherbank has a dark past. Fifteen years ago, a twisted serial killer abducted and murdered five young boys.
Until he was finally caught, the killer was known as 'The Whisper Man'.
Of course, an old crime need not trouble Tom and Jake as they try to settle in to their new home.
Except that now another boy has gone missing. And then Jake begins acting strangely.
He says he hears a whispering at his window . . .
Tom Kennedy and his seven-year-old son Jake move to the little village of Featherbank, hoping for a new start after the death of Jake's Mum and Tom's wife Rebecca who was discovered dead at the bottom of the stairs in their family home. Ever since Jake had to be carried up the stairs refusing to step where his mother had died.
The village of Featherbank might have looked like an ideal place to restart their lives. A small community with a village school Jake could settle into. However, the place has a dark past. Fifteen-years ago five little boys were kidnapped and murdered by serial killer Frank Carter. Their bodies all found in the same way except one, the last victim Tony Smith, whose body was never discovered.
Leading the investigation was DI Pete Willis, who until this day is haunted by the boy's deaths and the manner in which they were discovered. He was also the man to bring the killer to justice.
Frank Carter has been in prison for the last fifteen years. He enjoys the attention and the name given to him 'The Whisper Man'. He thrives in prison and taunts Pete Willis still all these years later.
In the present day, a young six-year-old boy has gone missing. DI Amanda Beck is in charge of the team trying to find the little boy but two months on and there has been no sight of him. Pete Willis is brought into the investigation after the little boy's mum informs the police that he had told her about a man whispering to him outside his bedroom window at night. The same method that Frank Carter did to his victims before he abducted them.
Could Frank of had an accomplice who was never found, or is this the work of someone coping Franks every move and wanting to strike fear into the residents of Featherbank once again?
The Whisper Man is a creepy, edge of your seat read. Tom and Jake are both going through a hard time trying to deal with their grief. Tom is an author who is struggling to write. He's also struggling to connect with his son who has started talking to people who are not really there, or are they?
Jake is a young boy who feels like a loner. He has no friends except the little girl that no-one else seems to be able to see, but Jake is adamant she is real. She tells him things that Jake alone wouldn't know. However, she isn't the only person Jake starts to see. He sees a little boy too and also hears a man whispering to him.
DI Pete Willis is a man that has never gotten over the case of Frank Carter. He puts pressure on himself after he failed to find the body of the last boy murdered by Frank and visits Frank in prison hoping that one day he would slip up and tell him something that would help find Tony. Now the nightmare is starting all over again with another abduction of a little boy.
The book is told in the third person and from the POV of Tom, Pete, Jake and at times the new killer too. This is a book that will play with your mind. Can you imagine someone whispering to your children of a night-time, telling them to do things? Someone shimming up the drainpipe and talking to them directly outside their window? Well, that's what the Whisper Man does.
There are also some supernatural elements to the story too, including the little girl who may or may not be real but she certainly knows things and sees things and tells them to Jake, she also helps him too. Couple this with the fact that the family has moved into a house the villagers call 'The Scary House' and you just might find it difficult to sleep after reading this book.
If you love thrillers then this is one to definitely pick up. It is written in six parts which are all compelling, impressive and will make you feel out of breath as you race through them. Don't delay, grab a copy today.
Book Reviewer – Stacey
---
Purchase online from:
---
About the Author
Alex North was born in Leeds, where he now lives with his wife and son. He studied Philosophy at Leeds University, and prior to becoming a writer he worked there in their sociology department.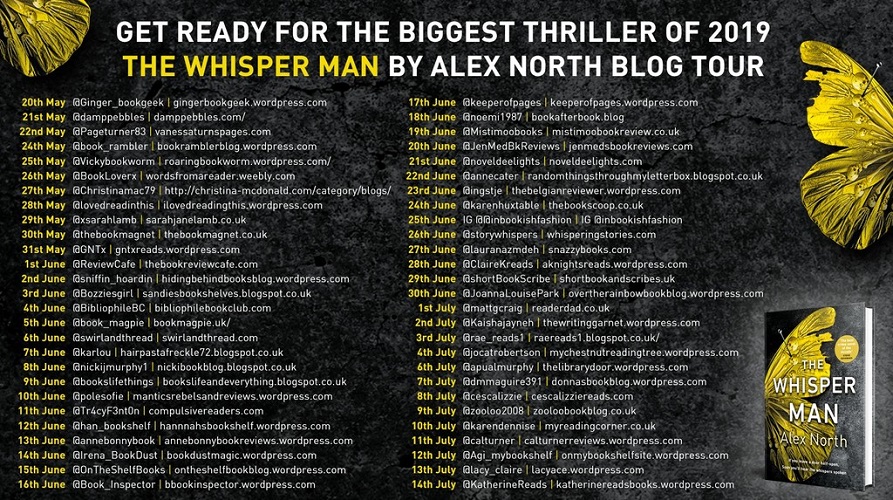 ---
What did you think of the book? Share your thoughts in the comment section below!
---
The above links are affiliate links. I receive a very small percentage from each item you purchase via these link, which is at no extra cost to you. If you are thinking about purchasing the book, please think about using one of the links. All money received goes back into the blog and helps to keep it running. Thank you.
Like us on Facebook – Tweet us on Twitter – Pin us on Pinterest
If you enjoyed our post please feel free to share it using the social media links below.