The Kennedy Curse by James Patterson – Book Review
The Kennedy Curse by James Patterson – Book Review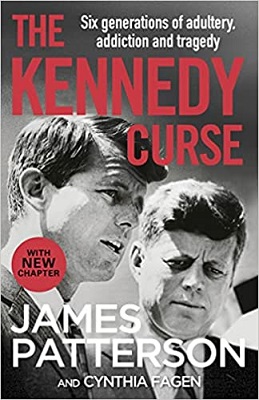 The Kennedy Curse
Author – James Patterson & Cynthia Fagen
Publisher – Arrow
Release Date – 4th March 2021
Pages – 448
ISBN 13 – 978-1787465350
Format – ebook, Paperback, Hardcover, Audio
Star Rating – 5
This post contains affiliate links.

Synopsis
Kennedys were always taught to win at all costs. And they did – but the price they paid was unimaginable . . .
Across decades and generations, the Kennedys have been a family of charismatic adventurers, raised to take risks and excel. Their name is synonymous with American royalty. Their commitment to public service is legendary. But, for all the successes, the family has been blighted by assassinations, fatal accidents, drug and alcohol abuse and sex scandals.
To this day, the Kennedys occupy a unique, contradictory place in the world's imagination: at once familiar and unknowable; charmed and cursed. The Kennedy Curse is a revealing, fascinating account of America's most famous family, as told by the world's most trusted storyteller.
The assassination of President Kennedy happened a good few years before I was born but I grew up with the conspiracy theories surrounding his death and have seen documentaries, read books, and sat through the movie JFK. I also grew up with people talking about the family and how 'unlucky' or 'cursed' they were.
I never really knew much about the wider Kennedy family. Yes, I'd heard about his brothers Bobby and Ted and his wife. I knew he had children but that was about as far as my knowledge went. The Kennedy Curse fascinated me. I was addicted to the book and read it within two days.
The family sure has been through a lot and there have been numerous deaths, including two after the book was published (whether the book has been updated I'm not sure). This is a family who fought to get to the top but whilst their fame, wealth, and political lives were increasing their bad luck was too. Plus, the name seemed to go to the heads of some of the younger generation who thought that they could get away with anything with the surname 'Kennedy'.
The book begins with JFK's Grandfather and works its way through the family. There were so many things I didn't know, many of them fascinated me, though I was rarely shocked by some of the behaviours, although the treatment of JFK's sister was despicable.
If you are interested in the family and would like to understand the history better then this is a wonderful book to gain that knowledge. It's not all doom and gloom and the book doesn't only cover the 'dark' side of the family. It certainly opened my eyes and made me wonder what the world would have been like without the assassinations of two of the Kennedy brothers.
---
Purchase Online:
James Patterson

James Patterson is one of the best-known and biggest-selling writers of all time. His books have sold in excess of 375 million copies worldwide. He is the author of some of the most popular series of the past two decades – the Alex Cross, Women's Murder Club, Detective Michael Bennett and Private novels – and he has written many other number one bestsellers including romance novels and stand-alone thrillers.
James is passionate about encouraging children to read. Inspired by his own son who was a reluctant reader, he also writes a range of books for young readers including the Middle School, I Funny, Treasure Hunters, Dog Diaries and Max Einstein series. James has donated millions in grants to independent bookshops and has been the most borrowed author of adult fiction in UK libraries for the past eleven years in a row. He lives in Florida with his wife and son.
Author Links:
---
The above links are affiliate links. I receive a very small percentage from each item you purchase via these links, which is at no extra cost to you. If you are thinking about purchasing the book, please think about using one of the links. All money received goes back into the blog and helps to keep it running. Thank you.