Enjoying It by Alfie Bown – Book Review
Enjoying It by Alfie Bown – Book Review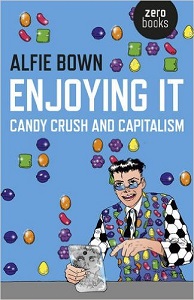 Enjoying It
Candy Crush and Capitalism
Author – Alfie Bown
Publisher – Zero Books
Pages – 96
Release Date – 11th December 2015
Format – ebook, paperback
Reviewer – Sharon
I received a free copy of this book
Post Contains Affiliate Links

Using a range of case studies from Critical Theory to Candy Crush, Gangnam Style to Game of Thrones and Football Manager to Hieronymus Bosch, this book argues that we need to rethink our enjoyment.
Inspired by psychoanalysis, the book offers a new way of thinking about how we talk about what we enjoy and how we enjoy what we talk about.

'Enjoying it' is a small book but it gives you a lot to think about.
With only a basic knowledge of psychoanalysis and critical theory I was concerned that this may be out of my league but I found it very insightful, well-argued and in most places entertaining. I did get a little bogged down in the references to some contemporary theorists (Deleuze, Lacan and Zizek) at times but this is a book that is very much centred on everyday life.
I was soon questioning my assumed superiority because I choose to read intellectual texts and listen to Radio 4 whilst my teenagers play computer games and spend hours on snap chat.
The text argues that all forms of enjoyment just serve to prop up the capitalist system – even when we think we are being subversive. It turns out that I am not as superior as I thought I was.
Nevertheless, it was the analysis of enjoyment itself that I found most fascinating. Especially the modern phenomenon of having to be seen to be enjoying yourself at all times and to let everyone know this on social media. This really struck a chord with me.
Personal happiness is seen as of prime importance in modern society so perhaps we should re-examine what makes us happy and question why and if we are really enjoying it!
Book Reviewed by Sharon
Purchase Links