Angel by L.A. Weatherly – Book Review
Angel by L.A. Weatherly – Book Review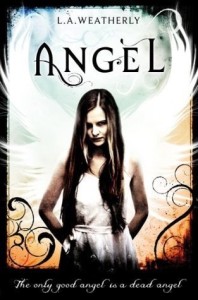 Angel


Angel Trilogy Book One
Author – L.A. Weatherly
Publisher – Usbourne Publishing Ltd
Pages – 506
Release Date – 1st October 2010
ISBN – 978-1409521969
Format – ebook, paperback, audio
Reviewer – Stacey
Rating – 5 Stars
Contains Affiliate links

Willow knows she's different from other girls. And not just because she loves tinkering around with cars. Willow has a gift.
She can look into people's futures, know their dreams, their hopes and their regrets, just by touching them. She has no idea where she gets this power from… But Alex does.
Gorgeous, mysterious Alex knows Willow's secret and is on a mission to stop her. The dark forces within Willow make her dangerous – and irresistible. In spite of himself, Alex finds he is falling in love with his sworn enemy.

Angel, is the first book in the Angel trilogy. It is a YA book, but once again I found myself reading, and enjoying a book from that genre.
We follow the life of Willow, who has had a hard time growing up. She grew up not knowing who her father was. Her mum is so mentally ill that she can't look after herself, let alone Willow, meaning that Willow had to be brought up by her aunt, who lives with her and her mum.
She isn't your average teenager girl, she loves fixing car engines, oh and she has a psychic ability to see peoples future.
When Beth, one of the popular girls from school, asks her for a reading, Willow reluctantly agrees. It's not doing the reading though that worries her, it's what she sees in Beth's future. Beth is sick, thin, and pale. She is a member of the 'Church of Angels', and its the angels that are draining the life out of her. Not understanding what she has witnessed, she still warns Beth to stay away from the church.
This is the start of Willows acceptance that angels are real, and that she may just be part-angel herself.
Willow is a very warm, sincere character, that has had a run of bad luck. She is sassy, strong and beautiful and hates her psychic ability. She is the kind of character that you feel sorry for and want the best to work out for her.
Alex is a strong, soldier like young man. He has been training all his life to be the best AK (Angel Killer) there is. He has grown up with the knowledge that 'Angels' are evil, after his mum was killed by one and he will use every ounce of his body to eradicate them from his world.
He is gorgeous and sexy and every bit the, hard-as-nails character he should be, even if now and again you do get to see his softer side, alongside his irritating, moody side.
From the moment Willow and Alex meet, you feel the chemistry that is building between them. They are obviously attracted to each other, even if neither of them wants to accept it.
The plot is the opposite of what we have all been brought up to believe, that angels are heavenly beings sent to protect us. These angels are evil, they hunt out their prey and feed off them until they either become mentally incapable, or are riddled with cancer.
The story is told from various viewpoints, including Raziel's, one of the chief angels. With having the views from different people, you can connect with the characters and even understand, if not agree with, why the angels are amongst us, feeding.
I found myself engrossed in the book and rushing through it, wanting to devour the whole trilogy. The plot is unique and intriguing and had lots of moments that I didn't expect.
You do have to give yourself time to get into the book, as it starts off quite slowly, and at one point I thought that I'd made a mistake in buying it. Then the action kicks off and that's when it hits you, that urge to read and not stop.
If paranormal, supernatural, YA books are of interest to you, I would recommend reading the 'Angel Trilogy'.
Book Reviewed by Stacey
Purchase Links