The City That Barks And Roars by J.T. Bird – Book Review
The City That Barks And Roars by J.T. Bird – Book Review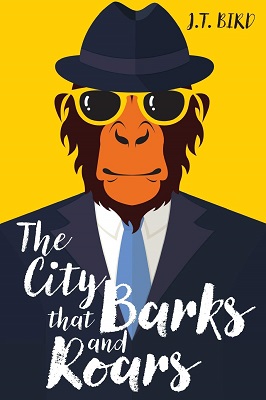 The City That Barks And Roars
Author – J.T. Bird
Publisher – Nielsen
Pages – 198
Released – 4th May 2020
ISBN-13 – 978-1838047900
Format – ebook, paperback, hardcover
Review by – Stacey
Rating – 3 Stars
I received a free copy of this book.
This post contains affiliate links.


Animals rule the world
They hit cafes for breakfast then nine to five at the office, and fritter away evenings at jazz clubs.
But paradise is still a distant dream, for there are devils amongst the angels.
Lucas Panda is missing; clues on the riverbank suggest he was probably kidnapped. Enter Frank. Who else you gonna call? Hard-boiled penguin and the finest detective in town. And meet his new partner, Detective Chico Monkey – yeah, the wisecrackin' kid with all the snappy suits. But the stakes have been raised; three more creatures are missing and the citizens of Noah's Kingdom are faced with possible extinction. Can the grouchy bird and plucky young ape save the city from doom? Or, will evil prevail and escape the claws of justice?
'Animal noir' peppered with plenty of humour; this thrilling debut novel from award-winning comedian JT Bird is an intriguing blend of Jungle Book and Chinatown (Zootopia for grown-ups?! Watership Down with Fedoras!?) – perfect for fans of animal fiction, or mysteries, adventure and crime. A gripping yarn, packed with weird and wonderful creatures, for youngsters and adults alike (or anyone who's crying out for anthropomorphic detectives!!)

Clean cut detective Lucas Panda has gone missing, assumed kidnapped and injured, or worse on his retirement night. His partner grumpy King Penguin Frank has been tasked with finding Lucas and paired up with new-comer to town and rookie detective Charlie 'Chico' Monkey.
Noah's Kingdom is a town like no other. It is the home of the animals who live and work side by side. It has its good bits and its dangerous sections just like any town. It also has its gangsters.
Not long into the investigation Frank and Chico are informed that three beaver brothers from 'The Swamp' have gone missing, could the cases be related? Only time will tell if the two detectives can solve the case and bring the animals back alive.
The City That Barks And Roars is like a cross between Disney movie and Columbo but for adults and in book form. The plot features an aging and grumpy detective who has a smart mouth at times and a monkey that is bright-eyed and sharp-suited.
The book is quite short at around 200 pages but unfortunately, I felt that even that was too long as there seemed to be quite a lot of padding and explanation to things rather than just letting the book flow.
I tried unsuccessfully to read the book twice and then I took away the fact that it was a book filled with animals and tried to see them as humans and this for me worked much better. I understand that the fun of the book is that it is about a city of animals and their traits but it just didn't work for me. This is the second book in only a few weeks that I have read for adults where the characters are animals and I'm realising that these types of stories are not something I particularly enjoy.
The plot was like some eighties American detective show where the lead detective is all moody and grumpy and hates everyone. Bring written by a stand-up comic you can expect some humour within the pages and plenty of satire. It is different, unique even. For me, I feel that the book would have worked better as a graphic novel, at least then you get to see the action and the animals too. It is also something which I could see working as an animation for adults.
It is entertaining, fast-paced, and unusual, just not for me.
Book Reviewer – Stacey
---
Purchase online from:
---
About the Author
J T Bird is an award-winning stand-up comedian from North London, where he lives with his wife and child. His humble abode sits neatly between the former homes of HG Wells and Robert Louis Stevenson…so there's no pressure to write something utterly successful and wonderful.
Bird was actually 'The Chosen One' that prophets foresaw would rescue the world from all the powers of darkness – however, he opted for a career as a clown and author instead…
Another little known fact – his father was sent from the future to protect him from an android assassin, and his mother's possessed by a demon – but hey, we all have family issues right?!



---
What did you think of The City That Barks And Roars? Share your thoughts in the comment section below!
---
The above links are affiliate links. I receive a very small percentage from each item you purchase via these link, which is at no extra cost to you. If you are thinking about purchasing the book, please think about using one of the links. All money received goes back into the blog and helps to keep it running. Thank you.
Like us on Facebook – Tweet us on Twitter – Pin us on Pinterest