The Widow of Pale Harbour by Hester Fox – Book Review
The Widow of Pale Harbour by Hester Fox – Book Review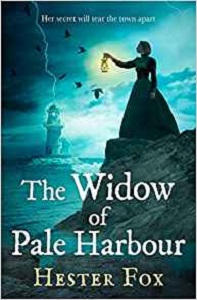 The Widow of Pale Harbour
Author – Hester Fox
Publisher – HQ
Pages – 352
Released – 17th October 2019
ISBN-13 – 978-1848457492
Format – ebook, paperback, audio
Review by – Stacey
Rating – 4.5 Stars
I received a free copy of this book.
This post contains affiliate links.
A town gripped by fear. A woman accused of murder. Who can save Pale Harbour from itself?
1846. Desperate to escape the ghosts of his past, Gabriel Stone takes a position as a minister in the remote Pale Harbour, but not all is as it seems in the sleepy town.
As soon as Gabriel steps foot in town, he can't escape the rumours about the mysterious Sophy Carver, a young widow who lives in the eerie Castle Carver: whispers that she killed her husband, mutterings that she might even be a witch.
But as strange, unsettling events escalate into murder, Gabriel finds himself falling under Sophy's spell. As clues start to point to Sophy as the next victim, Gabriel realises he must find answers before anyone else turns up dead.

Maine, 1846, Sophronia Carver is the mysterious widow living on the cliff tops at her home Castle Carver with her only trusted companion, Maid Helen. Her husband, magazine owner, Nathaniel died a few years ago and the locals believe that Sophronia killed him and that she is a witch.
Sophronia doesn't venture into the village of Pale Harbour anymore due to her anxiety. When Nathaniel died she became the owner of the magazine company and now spends her days reading submissions for the magazine and going for walks on her property.
Gabriel Stone has arrived in Pale Harbour under the pretence that he is the new transcendentalist minister. The real one died on route and Gabriel saw his opportunity to do some good and to fulfil his late wife's wishes.
He is told all about the goings-on in Pale Harbour, the daily troubles and that 'witch' Sophronia must be behind them. He is advised to stay away from her, but Gabriel wants to see for himself what this elusive woman is like, he is surprised when she is nothing like what the people say and an attraction forms between the pair.
With dark events happening in the village the locals all turn on Sophronia but can Gabriel and Sophronia work together to prove that she is not a 'witch' or behind the goings-on and find out who really is causing trouble in Pale Harbour?
The Widow of Pale Harbour is a Gothic tale following the works of Edgar Allen Poe. The story is a cross between a love story and a darkly mysterious historical tale. I'm not that familiar with Edgar Allen Poe's stories, though I do know some of his poems.
Sophronia is a lovely young woman, misunderstood and carrying a lot of grief on her shoulders. She cuts herself off from the world and focuses all her energy on going through the submissions for the magazine, trying to keep it in business.
Gabriel is a man who deeply misses his deceased wife and blames himself for her death during childbirth. He wants to do some good in the world and although he doesn't actually believe in everything about transcendentalism or that there are no bad in people only good ones, he's willing to follow and preach the religion as that is what his wife would have wanted.
The two characters paired together perfectly and I loved the way they were with one another, both had been through hardship and grief at a young age, so they both could understand one another completely.
The book was very atmospheric and you could feel the cold, harsh weather of Pale Harbour which sent shivers down my spine whilst reading. I loved the dark, Gothic feel to the book and the mystery surrounding the happenings in the village. The book has been beautifully written and I flew threw it, not wanting to put it down.
Hester Fox is an amazing writer and I have enjoyed both of her books, I do hope that there will be many more to come. With the early dark nights looming ever closer, this book is the perfect read for a winter's night.
Book Reviewer – Stacey
---
Purchase online from:
---
About the Author

Hester Fox comes to writing from a background in the museum field as a collections maintenance technician.
This job has taken her from historic houses to fine art museums, where she has the privilege of cleaning and caring for collections that range from paintings by old masters, to ancient artefacts, to early American furniture.
She is a keen painter and has a master's degree in historical archaeology, as well as a background in Medieval studies and art history. Hester lives outside of Boston with her husband and two cats.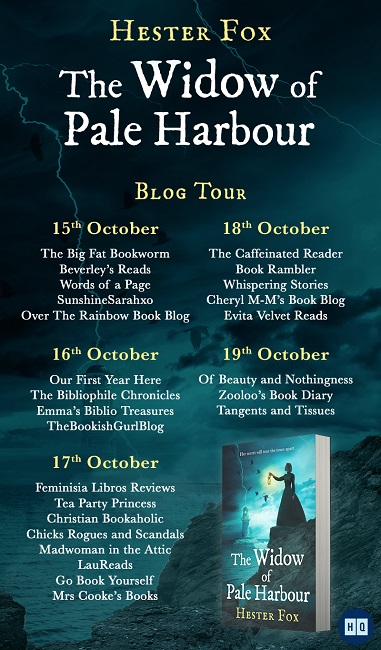 ---
What did you think of The Widow of Pale Harbour? Share your thoughts in the comment section below!
---
The above links are affiliate links. I receive a very small percentage from each item you purchase via these link, which is at no extra cost to you. If you are thinking about purchasing the book, please think about using one of the links. All money received goes back into the blog and helps to keep it running. Thank you.