Kludged Singularity by Tony L Joy – Book Review
Kludged Singularity by Tony L Joy – Book Review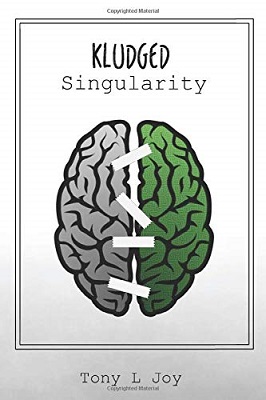 Kludged Singularity
Author – Tony L Joy
Pages – 267
Released – 20th February 2020
ISBN-13 – 979-8609545060
Format – ebook, paperback
Review by – Clive
Rating – 4.5 Stars
I received a free copy of this book.
This post contains affiliate links.


Alan is wasting his time in technical support, dreaming of the future. Accidentally releasing an advanced computer worm wasn't how he imagined it would start. Now he's just trying to hold everything together with digital duct tape and wishful thinking.
His employer's sinister secrets throw a wrench in those plans as he learns the technological singularity is imminent. When "working to live" takes on a literal meaning Alan realizes the future may not be as bright as he'd hoped.
Alan fights to guide the future of humanity before control, and freedom, slip from his fingers forever.

Wikipedia estimates that over 2 million books are published every year and Google has calculated that there have been around 130 million books published throughout history. With so many works it is understandable that some book titles get repeated so congratulations to Tony L Joy for a memorable title with a relevance that will become clear as you read the book.
I feel that the synopsis for Kludged Singularity seriously undersells the theme of this book although I am aware of the dangers of giving away the plot. Behind the humour, the setting and the characters, the author has given us some serious theories to consider regarding Artificial Intelligence.
It starts gently enough with two young men, Alan and Surendra, being given surprise interviews for more senior roles within their multi-national organisation. Their stories are told by Joy in alternate chapters with plenty of intrigue to keep the reader's attention.
Both of the main characters are on the geek spectrum, stereotypical of IT specialists but they are balanced by the others who have a variety of backgrounds and motivations. My favourites were Dr Ziegler and Anila. The setting is interesting, being a beautiful island owned by their organisation with good accommodation and leisure facilities.
My copy of Kludged Singularity would have benefited from a good proofreading and correction. Hopefully it was a pre-publication edition and that the finished article is much cleaner.
At times Alan's storyline was heavy on IT detail which stretched my understanding but as the situation gradually revealed itself I found myself fascinated, and a little scared, by the possibilities that AI could bring. It also made me think more seriously about my interactions on social media, particularly with those contacts that I have never met in real life. Kludged Singularity is a great thought provoking read and I have awarded four and a half stars.
Book Reviewer – Clive
---
Purchase online from:
---
About the Author

Tony L Joy currently lives in Colorado and has spent his adult life explaining increasingly less comprehensible computer problems to similarly less comprehensible people in exchange for money. When not exchanging knowledge for currency, he writes stories and books.



---
What did you think of Kludged Singularity? Share your thoughts in the comment section below!
---
The above links are affiliate links. I receive a very small percentage from each item you purchase via these link, which is at no extra cost to you. If you are thinking about purchasing the book, please think about using one of the links. All money received goes back into the blog and helps to keep it running. Thank you.
Like us on Facebook – Tweet us on Twitter – Pin us on Pinterest