The Trial by Franz Kafka – Book Review
The Trial by Franz Kafka – Book Review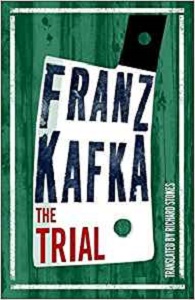 The Trial
Author – Franz Kafka
Publisher – Alma Classics
Pages – 224
Released – 22nd March 2018 (First ed 1925)
ISBN-13 – 978-1847497192
Format – paperback
Reviewer – Clive
Rating – 2 Stars
I received a free copy of this book
Post contains affiliate links
On his thirtieth birthday, the bank clerk Josef K. is suddenly arrested by mysterious agents for an unspecified crime. He is told that he will be set free, but must make regular appearances at a court in the attic of a tenement building while his trial proceeds. Although he never comes to know the particulars of his case, Josef K. finds his life taken over by the opaque bureaucratic procedures and is tormented by the psychological pressures exerted by his legal nightmare.
Published the year after the author's death, but written ten years earlier, The Trial is the most acclaimed of Kafka's three novels, and is both a haunting meditation on freedom and the powerlessness of the individual in the face of state power, and an ominous pre-figuration of the totalitarian excesses of the twentieth century.
Review
The Trial was written over 100 years ago and published over 90 years ago. During that time it has been considered a literary classic, it has been studied and debated, it has been included in Le Monde's 100 Books of the Century and it was voted the Second Best German Novel of the Twentieth Century. Given that history who am I to criticise but I have to say that I got very little pleasure from reading this book.
For a start the text was not easy to read. Kafka, or the translator, has throughout written in paragraphs which tend to run on for several pages; I counted one which was ten pages long. He does not even start a new line for new speech so the reader is constantly ploughing through interminable passages. Added to that the protagonist is referred to as K. and I found the full-stop another obstacle to my reading flow. Maybe these are standard procedures in German literature but it did not help me to comprehend this work.
Kafka has created atmosphere although most of the scenes and settings are somewhat surreal. Is it supposed to be real life, some sort of nightmare or the author's vision of a spiritual judgement? I cannot say.
The Trial is written in the third person but from what I remember the story constantly follows K., seeing everything from his perspective. The book has action but the bulk of it consists of long and odd conversations with a succession of very strange characters, none of them particularly warm or believable. It is also very frustrating that we are not allowed to know what K. is accused of; indeed, it seems that K. also does not know and even worse, he does not seem inclined to try to find out for himself!
Of course, this is not the first book to comment on the mystery and secrecy of the legal world. These themes had been explored some decades earlier by Dostoyevsky in Crime and Punishment and Dickens' in Bleak House but to me The Trial appears take this criticism to extreme. Can the reader believe such a message when it is set in such unlikely places?
There is a short introduction by Richard Stokes, the translator, but Alma Classics have not included their Extra Material and Bibliography sections which I have found so useful in their other publications.
There will be some readers who will want to read The Trial to complete a bucket list. Others will relish the opportunity to try to fathom the unfathomable. Unless you fall into one of these groups then my recommendation would be to look elsewhere for your next book. I have awarded two stars.
Reviewed by Clive
---
Purchase online from:
---