These Dividing Walls by Fran Cooper – Book Review
These Dividing Walls by Fran Cooper – Book Review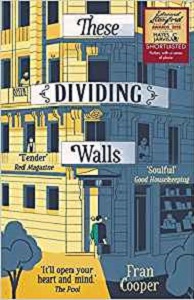 These Dividing Walls
Author – Fran Cooper
Publisher – Hodder Paperbacks
Pages – 256
Released – 8th February 2018
ISBN-13 – 978-1473641563
Format – ebook, paperback, hardcover, audio
Reviewer – Stacey
Rating – 4 Stars
I received a free copy of this book
Post contains affiliate links.
What building doesn't have secrets?
How much does anyone know of what goes on behind their neighbour's doors?
On a hot June day, grief-stricken Edward arrives in Paris hoping that a stay in a friend's empty apartment will help him mend. But this is not the Paris he knows: there are no landmarks or grand boulevards, and the apartment he was promised is little more than an attic room.
In the apartments below him, his new neighbours fill their flats with secrets. A young mother is on the brink, a bookshop owner buries her past, and a banker takes up a dark and malicious new calling.
Before he knows it, Edward will find himself entangled in their web, and as the summer heat intensifies so do tensions within and without the building, leading to a city-wide wave of violence, and a reckoning within the walls of number 37.

Whilst the setting in Paris, France might have you reaching for the book, what is inside is far more beautiful than any city could ever be. Between those creamy, orange covers is a story about life and the residents of the apartment building, Number 37 Rue des Eglantines, that has stood on the street corner for many decades.
Whilst the main character might be the young English Edward Rivers, who has taken up residence in his friend's apartment as he tries to get away from his present life, the plot features so many more superbly created characters in the shape of the other residents, and one who lives on the street facing the building. Including many with secrets, passions, and a sense of trying to come to terms with their current situations.
Ms. Cooper's writes so elegantly and heart felt. Every joyous, happy, sad, upsetting moment was vividly felt. The scenery was distinctly described. Don't expected to be seeing Paris through the eyes of a tourist though, this is back streets Paris, it almost felt like I was stepping back in time.
This isn't a fast paced book, this is one to be savoured. There are no twists, turns, big plot reveals, just a realistic story that centres itself on looking at society as a whole. This is a book that will make you think about the world we live in and, may even make you have a little bit of empathy for those around you.
Reviewed by Stacey
---
Purchase online from:
---
About the Author

In August 2012 I moved to Paris, and that first night in my new apartment I was fascinated to discover I could hear my neighbours snoring. I had never met these people, yet there was something so intimate in how much of each others' lives we were privy to, and I became fascinated by the idea of all the different stories that might go on behind an apartment building's closed doors.
I spent three magical years in that apartment, and my first novel, These Dividing Walls, tells the story of just such an apartment building over the course of a hot and politically troubled summer.
Lamenting the loss of cheap French wine and fresh baguettes, I now live in London with my fiancé Alex and our three-legged cat, Chip, who shares my penchant for staring out of windows and keeping an eye on the neighbours. When I'm not scribbling away on my second novel, The Two Houses, I can be found watching geeky BBC documentaries, taking long bubble baths, and attempting ambitious yoga poses.




---