Written in Blood by Layton Green – Book Review
Written in Blood by Layton Green – Book Review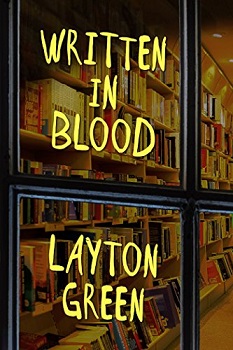 Written in Blood
Author – Layton Green
Publisher – Seventh Street Books
Pages – 320
Released – 20th November 2017
ISBN-13 – 978-1633883611
Format – ebook, paperback
Reviewer – Nia
Rating – 4 Stars
I received a free copy of this book
Post contains affiliate links.
Detective Joe-Preach-Everson, a prison chaplain turned police officer, is coming home. After a decade tracking down killers in Atlanta, and with a reputation as one of the finest homicide detectives in the city, his career derailed when he suffered a mental breakdown during the investigation of a serial killer who was targeting children.
No sooner does Preach arrive at home in Creekville, North Carolina–a bohemian community near Chapel Hill–than a local bookstore owner is brutally killed, the first murder in a decade. The only officer with homicide experience, Preach is assigned to the case and makes a shocking discovery: the bookstore owner has been murdered in exactly the same manner as the pawnbroker in Dostoevsky's Crime and Punishment.
With the help of Ariana Hale, a law student and bibliophile who knew the victim, Preach investigates the local writer's community. As their questions increase, a second body is found, this time eerily resembling the crime scene in a famous Edgar Allan Poe novella. Preach and Ariana realize that their adversary is an intelligent, literate killer with a mind as devious as it is disturbed. And one or both of them may be his next target.

I wasn't sure how I was going to get on with this book, based on my experience of the first few chapters, but after the first murder takes place it starts to come into its own.
Preach is a priest turned police detective, lead investigator on a series of literary themed murders. This book trod a very fine line between entertainment and cliché but Green managed to sidestep all the cringey clichés in my opinion – Preach is a sensitive and thoughtful main character and his religious past has made him philosophical rather than seeing the world in black and white.
The murders themselves are inspired by classic crime novels, giving them a respectful nod in their mentions. Their relevance doesn't become clear until the very end and the mystery itself isn't one that can be easily guessed. There are multiple layers to this book beyond the murder investigation as you're introduced to the residents of the town, which sets it apart from other books in the genre. It's always fun to read a book about books and authors, it's necessarily gimmicky but fun nonetheless!
Written in Blood has a start-of-series feel to it, with the introduction of a romance and some relationships which weren't fully developed in this book. I'm not sure how many strongly themed murders you can fit into a series but I'm prepared to find out! Normally, a strong theme in a murder mystery novel makes it a little bit fluffier, but this book contained some pretty dark and graphic themes about the dark side of humanity and the awful things we do to each other, it's not for the faint of heart.
The chapters alternate between the perspectives of Preach, his rookie partner, Kirby, and the young bookshop assistant, Ari. The characters are well written and easy to relate to, and offer different views on the case as it unfolds.
This is going to be a series to follow if you like crime thrillers that consider the good and bad sides of humanity.
Reviewed by Nia
---
Purchase online from:
---
About the Author

Layton Green writes in multiple genres and is the author of the bestselling Dominic Grey series, as well as other works of fiction. His novels have been nominated for multiple awards (including a finalist for a prestigious International Thriller Writers award), optioned for film, and have reached #1 on numerous genre lists in the United States, the United Kingdom, and Germany. The fourth Dominic Grey novel, The Shadow Cartel was a #2 overall bestseller on Amazon UK.
In addition to writing, Layton attended law school in New Orleans and was a practicing attorney for ten very long years. He has also been an intern for the United Nations, an ESL teacher in Central America, a bartender in London, a seller of cheap knives on the streets of Brixton, a door to door phone book deliverer in Florida, and the list goes downhill from there.
Layton lives with his wife and children in North Carolina.




---