Naked Truth: Or Equality by Carrie Hayes – Book Review
Naked Truth: Or Equality by Carrie Hayes – Book Review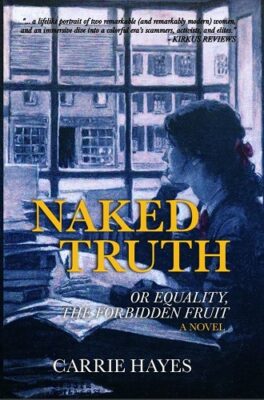 Naked Truth: Or Equality, The Forbidden Fruit
Author – Carrie Hayes
Publisher – HTPH Press
Pages – 324
Released – 29th February 2019
ISBN-13 – 978-0578229102
Format – ebook, paperback
Rating – 3 Stars
I received a free copy of this book.
This post contains affiliate links.


Synopsis
From Washington Heights to Washington D.C. comes a true American Herstory. Filled with intrigue, lust, and betrayal, this is the fight for sexual equality.
1868, on the eve of the Gilded Age: Spiritualist TENNESSEE CLAFLIN is smart, sexy, and sometimes clairvoyant. But it's her sister, VICTORIA WOODHULL, who is going to make history as the first woman to run for President of the United States.
It starts with the seduction of the richest man in America. Next, they'll take New York City and the suffragist movement by storm, because together, Tennessee and Victoria are a force of nature. Boldly ambitious, they stop at nothing, brushing shoulders with Harriet Beecher Stowe and Susan B. Anthony, using enough chutzpah to make a lady blush.
That is, until their backstabbing family takes them to court, and their carefully spun lives unravel, out in public and in the press.
Told from shifting points of view and using actual news reportage from the era, Naked Truth or Equality is a riveting inside look into the struggle for women's rights after the Civil war.
Naked Truth is the fictionalized true story of two women attempting to push against and through the rampant sexism of the post-Civil War United States.
In the late 1800s, in New York, two sisters attempted to make history by running for office. Leading up to this moment, their story is a tale involving seduction, blackmail, and bigotry. Naked Truth follows Tennessee Claflin and Victoria Woodhull as they slowly become involved in politics and then brought to trial by their own family for obscenity.
Unfortunately, what should have been a riveting true story is bogged down by the way the story is told. I spent a great deal of the first half of the novel confused, as characters/historical figures are introduced without a lot of backstory. There is a list of characters at the start, it only provided the bare minimum of information. I think the issue is that I am not American and while I know the basics of American history, I only have the vaguest idea of who Ulysses Grant is, for example, and I only know of Frederick Douglass and Harriet Beecher Stowe from an American literature class. Tied to this, the characters are given little to no exposition or backstory – it felt like I was expected to know who these people were already, which was frustrating. Likewise, so many things happen that I didn't feel I got to know Tennessee and Victoria very well, so I wasn't as emotionally invested as I could have been.
Yet, this is an impeccable-researched novel – details about life in that time period were included to give it an authentic feel. One of the best aspects of the novel is the inclusion of primary sources – like newspaper articles – from the time of the events in the story.
Sometimes a novel that you think will be right up your alley doesn't sit with you as you expected, which I think is what happened here. But readers who love this period of American history will undoubtedly adore this novel. You can tell there was a great deal of thought put into it, and the story is as relevant today as it was 120 years ago.
Purchase Online From:
---
What did you think of 'Naked Truth: Or Equality, The Forbidden Fruit'? Share your thoughts in the comment section below!
---
The above links are affiliate links. I receive a very small percentage from each item you purchase via these link, which is at no extra cost to you. If you are thinking about purchasing the book, please think about using one of the links. All money received goes back into the blog and helps to keep it running. Thank you.
Like us on Facebook – Tweet us on Twitter – Pin us on Pinterest – Join us on Instagram