The Guilty Party by Mel McGrath – Book Review
The Guilty Party by Mel McGrath – Book Review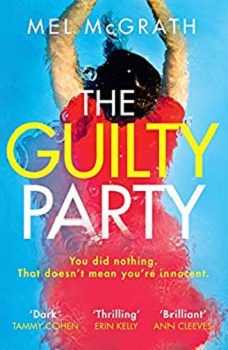 The Guilty Party
Author – Mel McGrath
Publisher – HQ
Pages – 384
Released – 7th March 2019
ISBN-13 – 978-0008326166
Format – ebook, paperback, hardcover, audio
Reviewer – Stacey
Rating – 4 Stars
I received a free copy of this book.
This post contains affiliate links.
You did nothing. That doesn't mean you're innocent.
On a night out, four friends witness a stranger in trouble. They decide to do nothing to help.
Later, a body washes up on the banks of the Thames – and the group realises that ignoring the woman has left blood on their hands.
But why did each of them refuse to step in? Why did none of them want to be noticed that night? Who is really responsible?
And is it possible that the victim was not really a stranger at all?

Sunday 14th August – After leaving a music festival and getting split up from one another, long term friends Cassie, Anna, Bo and Dex all meet up again in the early hours in a church grounds. Not far away they see a woman being assaulted and what looks like being raped. Although Cassie wants to help the other friends all persuade her to do nothing and tell her that it is probably just two people having a 'good time'. They walk away offering no help.
A few weeks later the four friends go away for the weekend to celebrate Bo's birthday, staying at a cottage in the Isle of Portland. Whilst there Cassie reads an article in the paper about a woman being pulled out of the River Thames and an image of her earlier in the night. The image of the woman Cassie realises is the same woman she saw being raped.
She speaks to the others but they don't want to know. They try to convince her it's not the same woman and that they all have something to lose should they go to the police. With each of them hiding a secret will any of them come clean and admit what they saw and that just maybe they each played a part in the young woman's death, even if not directly?
From the opening scene I was intrigued and glued to the pages of 'The Guilty Party', throughout chapters which move back and forth in time and told from each of the friends but in no particular order, you get to live through the moments leading up to them witnessing the rape and then before and after the event.
The more you read the more you learn how each of them played their own little part in the woman's death, it would only have taken one of them not to have done what they did or to of helped her when she asked for her death to not of occurred.
You also get to delve into each of their lives a little deeper and see how none of them are leading the perfect life and how each of them has secrets, some they share and some secret they keep from one another – Do they really know each other, even after being friends for all the years they have? Plus they also have their own collective secret 'The Little Black Book' which is actually a secret group on Facebook with only the four of them as members. This was really quite weird and creepy.
Whilst I enjoyed the book completely and found it astonishing that four people would witness such an attack and walk away without offering help, not something I could have done. I also did find it weird that four friends who used to be couples and are now in their 30's, two of them married (to other people) would be as close as they were, going out to festivals together, holidaying together, without their partners or in Anna's case her child too.
There are plenty of twists and secrets reveals throughout and I did start to wonder where the author could take the ending. This is a book that makes you think about the situation and what you would have done. It also makes you realise how different we all are.
Reviewed by Stacey
---
Purchase online from:
---
About the Author

Mel McGrath is an Essex girl, co-founder of Killer Women, and an award-winning writer of fiction and non-fiction. As MJ McGrath she writes the acclaimed Edie Kiglatuk series of Arctic mysteries, which were twice longlisted for the CWA Gold Dagger and Times and Financial Times thrillers of the year.
As Melanie McGrath she wrote the critically acclaimed, bestselling memoir Silvertown. As Mel McGrath she is the author of the bestselling psychological thriller Give Me The Child.
The Guilty Party is her latest novel.




---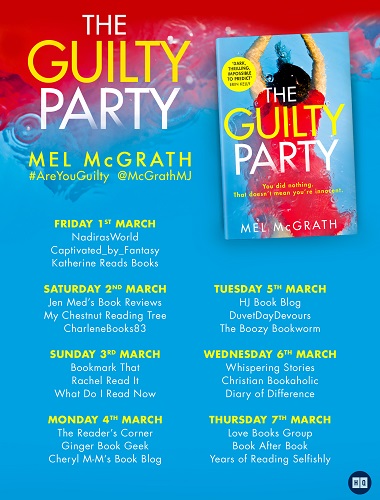 The above links are affiliate links. I receive a very small percentage from each item you purchase via these link, which is at no extra cost to you. If you are thinking about purchasing the book, please think about using one of the links. All money received goes back into the blog and helps to keep it running. Thank you.