The Babbling Brook Naked Poker Club by Ann Warner – Book Review
The Babbling Brook Naked Poker Club by Ann Warner – Book Review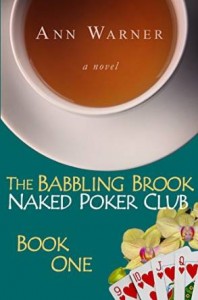 The Babbling Brook Naked Poker Club
Book One
Author – Ann Warner
Publisher – CreateSpace
Pages – 296
Release Date – 7th July 2016
Format – ebook, Paperback, audio
Reviewer – Elise
I received a free copy of this book
Post Contains Affiliate Links

A painting worth millions, valuables gone missing, a game that is more than a game. And that's only the beginning as an elderly widow befriends a young woman and tries to prevent her from making the same mistakes she has made.

I'm kind of a sucker for books that delve into the inner lives and dramas of residents at senior living homes. These stories have such potential for surprise and revelation because they can take advantage of readers' assumptions about the elderly, flip them on their head, and pop out a plot line filled with characters of unexpected value.
The Babbling Brook Naked Poker Club, is not an exceptional book, but it does keep the reader turning the pages because the characters become more and more interesting as you go along. What begins as a simple mystery quickly evolves and becomes a life-or-death drama, and the relationships built between the characters are touching.
The writing is very straightforward, which fits with the style of the story. Personally, I would have enjoyed a bit more description because I think it would have added to the richness of the characters, but I did well enough with just my imagination to go on.
The thing that troubled me about this book, however, is that it was so…predictable. Although there were a number of "surprise" twists, I almost always knew exactly what was going to happen next, and was positive of the outcome of the story within only a few pages of starting the book. While it was still enjoyable to read and experience the journey from A to B, I wish that there had been a bit more creativity involved.
In addition, the characters' constant inner monologues in which they explained everything that was going on made it feel as if the author couldn't trust us to figure out the story, which isn't so complicated that that should be a given.
Despite those issues, however, the book was entertaining, and the writing was pretty solid. It's a good summer read if you're just looking for something to pass the time or to use as a relaxing escape. I give The Babbling Brook Naked Poker Club a solid three out of five stars.
Book Reviewed by Elise
Purchase Links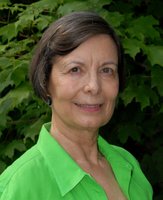 A former Air Force brat turned clinical chemist, toxicologist, and university professor, Ann's life took another turn in 2001, when she began writing fiction.
After completing a perfectly dreadful novel (she didn't know it was at the time) she talked her way into a graduate writing seminar and followed that up with several years of study as she continued to write. Along the way she made friends with other writers who have supported, critiqued, and eventually praised her novels. Her debut novel, Dreams for Stones, was a finalist for the Indie Next Generation Book Award.
Ann's novels take advantage of the many unusual settings she's traveled to or lived in including New Zealand, Australia, Peru, San Francisco, Wrangell Alaska, Colorado, Boston, and Puerto Rico. As well, her experiences as a toxicologist have added fillips of intrigue to many of her stories.
In Ann's novels, the consequence of choosing to love or not to love is an underlying theme, as characters face crises and complications that force them to dig deep within themselves to discover their own resilience.
Author Links