Games People Play by Owen Mullen – Book Review
Games People Play by Owen Mullen – Book Review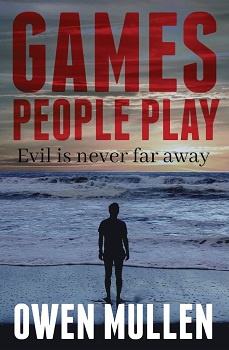 Games People Play


Volume One
Author – Owen Mullen
Publisher – Bloodhound Books
Pages – 336
Release Date – 19th January 2017
ISBN-13 – 978-0995692640
Format – ebook, paperback, audio
Reviewer – Kerstin
I received a free copy of this book
Post Contains Affiliate Links

Thirteen-month-old Lily Hamilton is abducted from Ayr beach in Scotland while her parents are just yards away.
Three days later the distraught father turns up at private investigator Charlie Cameron's office. Mark Hamilton believes he knows who has stolen his daughter. And why.
Against his better judgment Charlie gets involved In the case and when more bodies are discovered the awful truth dawns: there is a serial killer whose work has gone undetected for decades.
Is baby Lily the latest victim of a madman?
For Charlie it's too late, he can't let go.
His demons won't let him.

Games People Play begins with the abduction of baby Lily at the beach of Ayr, Scotland. Her father Mark Hamilton has to leave her on the beach in her pram in order to save the life of his wife who had went for a swim in the ocean.
Charlie Cameron, the protagonist of the book, is a Private Investigator in Glasgow and gets involved into the abduction of Lily because Mark mandates him to find his Ex-Affair Donna Morton, who he believes of having taken his daughter as a revenge for him leaving her for his wife.
Charlie became a PI because his sister Pamela has been abducted when they were children, and has never been seen since. Till this day he is traumatised and made it his mission to help other people find their missing children.
Although Charlie is very good in what he does, he is not as busy as he would wish but in addition to his job he has to put his private life back on track too. Maybe the new lead singer of the resident band of the NYB can help him with this? Or is he going to screw it again?
Now, that is what I call a solid piece of writing! I really enjoyed myself reading this book. The plot is varied and sometimes even slightly funny (although it is a crime novel), but in general it is enthralling and keeps you reading.
The main character, and the even the secondary characters, are very likeable and therefore you want to know how they are doing throughout the whole book. Especially Charlie's life is enthralling itself and makes it easy wanting the reader to follow his story.
Games People Play is well written and a wonderful read. I honestly enjoyed every page of it and I didn't have to run down a page even once which was very nice for a change because I had to do so in the past quite frequently.
Owen Mullen is a very talented writer and reminded me of the ability of stirring someone with writing.
Games People Play Reviewed by Kerstin
Purchase Links

Games People Play – Excerpt
Ayr, 35 miles from Glasgow.
They walked along the beach and stopped not far from an old rowing boat with a hole in the bottom. Mark carried the folded push-chair and his daughter. The sun fell towards the horizon. It had been a great day, a scorcher, but the best of it was behind them. Noisy gulls scavenged, soaring and diving and calling to each other. Lily pressed her face against her father's chest, too tired to be interested in the birds.
'We ought to get back,' Mark said, 'Lily's tired. She should be in bed.'
Jennifer didn't reply. He knew what she was thinking.
'Surely not?'
'Last one? Five minutes?'
Mark glanced at his watch – ten past seven – and limited his concern to a sigh. The last thing he wanted was to spoil things with a quarrel; there had been enough of those. Red flags fluttered in the evening air. He pointed to them.
'Be careful, Jen. The waves are getting bigger. Don't go far.'
She dropped the bag with their towels and the baby's things at his feet.
'I will. In and out. Promise.'
The water was cold; colder than in the afternoon. When it was waist high she kicked her legs and headed out. Jennifer caught a glimpse of Mark and Lily standing on the sand: her whole universe. She loved them so much. That thought almost made her turn back. Instead she took a deep breath and dived.
It happened so fast. One minute she was swimming, the next the current was dragging her to the bottom. Seawater flooded her mouth. She fought, thrashed to the surface and tried to shout; a hoarse whisper was all that came. Her head went under and stayed under. Her lungs were on fire. With no warning it released her and she saw blue sky. Jennifer gulped shallow ragged breaths, shocked and scared, and started towards her family. She would never leave them again. But the decision was no longer hers. The force drew her back into a world without light or oxygen and this time it didn't let go. Her arm broke free in a desperate attempt to escape. Tongues of spray pulled it down and Jennifer knew she was going to drown.
She'd dreamed of watching her daughter grow into a woman. That would never be. And Mark, poor Mark. How unfair to leave him. Her body rolled beneath the waves. She stopped struggling, closed her eyes and disappeared from sight.
Seconds passed before Mark realised something wasn't right. 'Where's mummy? Where's your mummy?' The baby sucked her thumb. 'Where is she, Lily?'
At first he couldn't move. Cold fear consumed him. A hundred yards away a group of boys played football; apart from them the beach was deserted. He yelled. They didn't hear him. He threw the push-chair to the sand, yanked it open and sat Lily in it. His hands were shaking. The damned straps wouldn't fasten. He spoke to himself. 'Please god, no. Please god, no' and raced into the sea.
The water was freezing. What the hell had Jen been thinking? This was Scotland, for Christ sake. He swam to where he'd last seen her and went under. Mark was a good swimmer but it was dark. His frantic fingers searched until the pressure in his chest forced him to the surface. He took in as much air as he could and went back. Something bumped against him; he grabbed hold and dragged it up. Two boys ran into the water to help: the footballers. They hauled her body the last few yards and Mark fell to his knees. Jennifer wasn't breathing. People appeared on the beach, silent witnesses to the nightmare the day had become. Where had they been when he needed them? He shouted, half in anger half in desperation.
'Somebody call an ambulance!'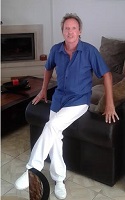 At ten I won a national primary schools short story competition – and didn't write anything else for forty years.
As a teenager my big obsession was music. Early on I realised if I was successful I would probably be rich and famous and pull lots of girls.
So how did that turn out? Well, you haven't heard of me, have you? And this morning I caught myself worrying about the electricity bill. So the short answer is: one out of three ain't bad.
Running around the country in a Transit van with your mates is fun. It's your very own gang. You against the world. Until you fall out and the dream lies bleeding on the dressing-room floor. When that happened I went to London [everybody from Scotland goes to London, it's like first footing at New Year, or ten pints of lager and a vindaloo on a Friday night; a sacred tradition] and became a session singer. I also started gigging with different bands on the circuit.
Back in Scotland I went to Strathclyde Uni and got a bunch of letters after my name, and toughing it out at Shotts Miner's Welfare, or dodging flying beer cans at the Café Club in Baillieston, was in the past. The long hair was short now, I wore a suit and pretended to like people I didn't like because we were 'colleagues'.
I then wrote another short story called The King Is Dead… the first thing I'd written since primary school. When I typed the last word I held the pages in my hand then started to read. An hour and a half, rooted to the chair unable to believe what was in front of my eyes. For four decades I had shunned a god given gift. And as I read I started to understand why. It was awful. Not just bad. Bloody terrible. But I kept going.
And now, eight years and seven books later, three literary agents plus two I turned down [they were reading a different book] I am a writer. My books are on Amazon. People buy them and come back for more.
So is the moral: follow my example, find something you're good at and stick with it. Hardly. I didn't, did I? Do it your own way; it's your life.
Author Links