The Writing Life of: Jacqueline Ward
Jacqueline Ward
This week on 'The Writing Life of:' I am thrilled to be interviewing author Jacqueline Ward. Jacqueline will be sharing with us details of her writing life, telling us all about her latest book 'Playlist for a Paper Angel', which was released on 27th December 2016, and answering a few fun questions.
So, without further ado I'll hand you over to Jacqueline. Post contains affiliate links.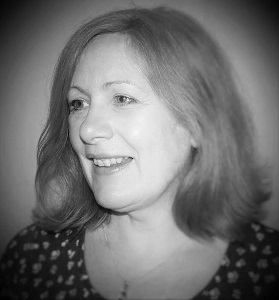 I'm a writer from Manchester, UK. I've been writing all my life and have had articles and short stories published in different magazines and anthologies, but it's only in the past five years that I have started to write novels.
I'm interested in the publishing industry and all its twists and turns, and I'm interested in writers and how they work. But I'm also interested in readers and how they perceive work. My deeper interests lie in how storytellers construct themselves and, given that everyone's lives are constructed with stories, how people understand the concept of truth.
I had a break from writing novels and studied storytelling from a psychological perspective, and this interest permeates all my work and all my life. I am fascinated by the interface between the mind and the external world, the inner and the outer, and where writing sits on that interface as meaning making. In my own writing I hope that I am forming a bridge with the reader that communicates not only words, but the silent messages that punctuate our world and bring vivid images to stories that are about war, crime, its perpetrators and its victims.
How does all this translate into my writing? I arrived at the place I am now, with my completed novels, by really working on communicating how the world is through my characters, how it is for them when they are caught up in the currents between good and bad. I want to tell stories of what these events are, how the mind works, how those who solve problems are really just ordinary people as well as heroes, and how those on the outskirts are often left with the burden of shame and regret.
Fitting writing into my busy life isn't easy, but for me it's essential – I just have to write. I hope you feel that you just have to read it!
---
1) As a child what did you want to do when you grew up?
I wanted to be a teacher. In the end I became an accountant, but changed careers midlife and became a psychologist. I've always written alongside anything else I have done. I wouldn't like to give up my job as I see lots of life that informs my writing.
2) Who were your favourite childhood authors?
I was a great fan of Alan Garner. The Weirdstone of Brisinghamen is my favourite childhood book. Then I read the Hobbit and Lord of the Rings and was blow away by Tolkien.
3) At what point in your life did you realise you wanted to be a writer?
When I was about seventeen. I wrote articles for my local paper and short stories. I loved creative writing a school but I had my sights set on teaching maths.
4) How did you go about following that dream?
I started submitting short stories to women's magazines and anthologies and got some published. I also ran workshops locally wherever I lived. I was fairly successful with short stories but I didn't write my first novel until much later on.
5) What is your writing day like? Do you aim for a certain amount of pages or words before you stop for the day?
I aim for 3000 words per day when I am writing. I have long research periods when I'm not writing, then I get a first draft down quickly.
6) Did you ever consider writing under a pseudonym?
I write under three names, Jacqueline Ward for crime fiction, J A Christy for speculative fiction and Jacqueline Ann Christodoulou for my academic writing.
7) Do you have any strange habits before starting, or whilst in the midst of writing?
Well, I have a lot of ideas when I'm travelling so I ring my landline answerphone and leave myself a message so I don't forget!
8) Do you write longhand, typewriter, or on a computer?
I always use a computer.
9) How many books have you written? Do you have any unpublished work?
I have written seven books in total and three are published.
10) Are you a plotter or a pantser?
I'm a bit of both! I like to plot the basic story before I start, but I know that much of my storytelling is organic and can take me in directions I could have never plotted at the begging, so I let the first draft go where it wants to.
11) Do you read all the reviews left for your book(s)?
I do read reviews. I completely respect the reviewers right to their opinion. Bad reviews don't really bother me because I know I write about sensitive subjects and people have different views on them.
Concerning your latest book: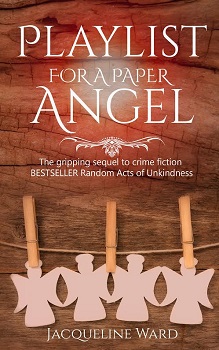 Playlist for a Paper Angel


DS Jan Pearce Book Two
Author – Jacqueline Ward
Publisher – Kindle Press
Pages – 282
Release Date – 27th December 2016
Format – ebook

DS Jan Pearce is still searching for her missing son. When she finds a little girl, Elise, alone in a pram in a busy town centre, she must unravel a mystery that takes her to the edge of her emotions. Then another child, Dara Price, goes missing.
Lisa Connelly, Elise's mother, has been forced into a life of prostitution and has been leaving her little girl alone. Her gangland boss is holding her prisoner but she wants her little girl back.
Jan and her temporary partner, profiler Damien Booth, must find Lisa before time runs out for Dara.

12) How long did it take you to get from the idea's stage to your date of publication?
It took me about four years.
13) How did you come up with the names for your characters?
Jan Pearce is a character form the previous book. Lisa is also a minor character from Random Acts of Unkindness. Their names just came to me in the story.
14) Can you give us an insight into your main character(s) life?, What makes them tick?
DS Jan Pearce is the main character in one strand. She is a no nonsense police office whose son is missing. She's a broken woman who has to carry on regardless and catch the villain. She's a woman on a mission and her ultimate goal is to put Sean Connelly, a local gangster whose crimes she uncovered. In her personal life she's lonely, at a crossroads.
The other main character is Lisa. She is a single mother who is forced into a life of prostitution. Lisa knows she is bottom of the pile when it comes to life, and she just wants the best for her daughter.
15) Which was your hardest scene to write?
The hardest scene to write was when Elise heard Lisa's phone and Jan and Lorraine start to realise what has happened and how she has been left alone. It's always difficult to write about children. It's a balance between not wanting to write it, but it's part of the story and how the story presents itself to me.
I try very hard to address things that happen and how they are dealt with without being gratuitous. I know that some authors avoid some subjects, but I think that it is possible to write about difficult issues with sensitivity and give them a voice.
16) How did you come up with the title of your book?
I brainstorm with myself! I wanted a title that could be applied to different concepts in the book but was memorable too.
17) Did you get a family member/friend to read your work before sending to the publishers?
Yes! I have several friends who read my work and give me honest opinions. Some of them are writers and some of them are not. I really value what they do for me.
18) What process did you go through to get your book published?
My first crime fiction book won Kindle Scout and was published by Kindle Press. I offered them the second cook and they accepted it.
19) What did you do once you had written the final word in your book?
As with every book or big project I finish, I go out and buy myself a gift. For this book I treated myself to art supplies as I am making myself a piece of artwork to commemorate the book. Other gifts have included a Tiffany style lamp and a starling brooch. I try to get something that reminds me of the book or project.
20) What's next for you, writing-wise?
My current WIP is a crime thriller standalone on the subject of revenge – with a twist! I have really enjoyed writing it as I have interviewed people about what the worst thing their ex could have done to betray them, and what they consider is cheating in a relationship. I'm at the exciting stage where I send it out to beta readers now.
1) What's your favourite food?
I love my partner's lamb keema – he's a curry genius and it's proper comfort food. I also think raspberries are little jewels of goodness 🙂
2) If you had a box of crayons and you could only choose one, which colour would you choose?
Purple
3) What movie could you watch over and over again?
The Wizard of Oz tied with It's a Wonderful Life
4) What would be the top song on your playlist?
What an appropriate question! It changes from time to time but at the moment it's Find the River by REM
5) If you won millions on the lottery, what would be your first purchase?
If I won a lot I'd buy my children houses – if it was a smaller amount I'd buy a new Smart TV. You can tell I've thought a lot about this!
6) A talking duck walks into your room wearing a baseball cap and sunglasses, whats the first thing he says to you?
Put that vodka down 🙂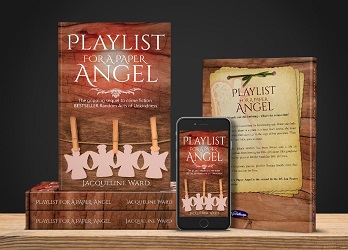 You can find out more about Jacqueline by visiting her website/social media sites below.
www.jacquelineward.co.uk
@JacquiAnnC
Facebook
Goodreads
A very big thank you to Jacqueline Ward for telling us all about her writing life.