The Writing Life of: P.A Davies
P.A Davies
This week on 'The Writing Life of:' I am thrilled to be interviewing author P.A Davies. He will be sharing with us detail of his writing life, telling us all about his latest book 'Absolution', which was released on 24th October 2017, and answering a few fun questions too.
So without further ado I'll hand you over to P.A Davies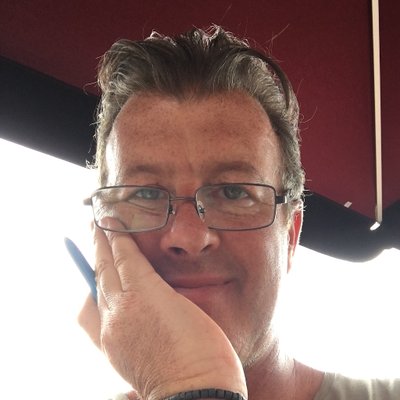 P.A. Davies grew up in Manchester, UK, a place he has lived in and around all his life – he loves Manchester and is proud to be part of the multi-cultural, modern city that houses two Premiership football teams and is the birthplace of many a famous band, such as Oasis, the Stone Roses, Take That and Simply Red.
For most of his life, he dabbled with writing various pieces, from poems to short fictional stories just for fun. However, following advice from a good friend he decided to have a go at writing a novel. Thus, his first novel 'Letterbox' was conceived, a fictional take on the infamous IRA bombing of Manchester in 1996. It took him over a year to complete but while doing so, he found it to be one of the most satisfying and interesting paths he had ever followed. It comes as no surprise that the writing bug now became firmly embedded within him.
P.A. Davies' second book was published in May 2013, 'George: A Gentleman of the Road', a true story about one of Manchester's homeless. His third novel, 'The Good in Mister Philips', is an erotic novel (arguably set to rival Fifty Shades…!) and his fourth, 'Nobody Heard Me Cry' (Dec. 2015) is again a fact-based tale, this time of Manchester's darker side. The thriller 'Absolution' (Oct. 2017) is his fifth novel. Currently, P.A. Davies is writing his sixth novel, titled 'I, Muslim.'
To label P.A. Davies' writings would be difficult because his works diverse from thrillers to touching novels to true-to-life tales embedded in a captivating story for the author is an imaginative and versatile storyteller.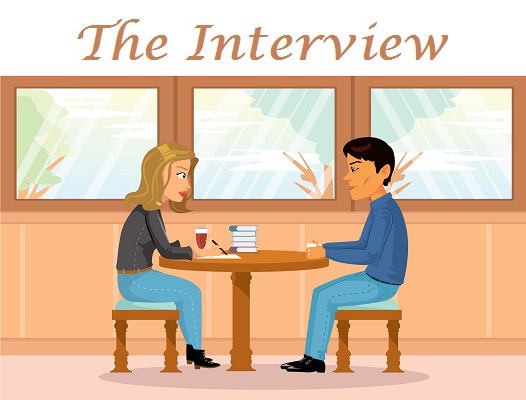 1) As a child what did you want to do when you grew up?
I always wanted to be an actor on the stage and play Don Lockwood: Gene Kelly's character in Singing in the rain.
2) Who were your favourite childhood authors?
Roald Dahl, Robert Louis Stevenson, Charles Dickens. Although I read a number of books whose author I didn't know at that time of my life.
3) At what point in your life did you realise you wanted to be a writer?
From a very early age (primary school) I always enjoyed writing stories and poems but never really imagined myself as a writer. Nor did I have any aspirations to be one. In fact, it wasn't until my fourth book – Nobody Heard Me Cry – was published, that I actually started to consider myself a real writer – a storyteller at heart.
4) How did you go about following that dream?
Again, it wasn't a "dream" that I followed, it just kind of happened on the back of a wine-fuelled evening with a good friend of mine.
"We should write a book!" He said, during a conversation we were having about Manchester.
"That's a great idea," I replied with enthusiasm. "We could write about the IRA Manchester bombing?"
"Cool," He responded.
After the first week of collaboration, he lost total interest, I carried on as I was gripped by the topic and wanted to research everything around the IRA bombing in my city, Manchester, felt I just had to write about it.  A year later, my first novel Letterbox was published.
5) What is your writing day like? Do you aim for a certain amount of pages or words before you stop for the day?
Some days I will write for hours, some days very little and sometimes I will spend all day researching one particular subject. I don't really give myself a target or time limit, as that might prove stressful and ruin the fun … and writing should always be about fun, yes?
6) Did you ever consider writing under a pseudonym?
Nope. Never. Good or bad, like or hate, I want people to read my work in my name.
7) Do you have any strange habits before starting, or whilst in the midst of writing?
No, but I do drink way too much coffee whilst writing … lattes of course.
8) Do you write longhand, typewriter, or on a computer?
I write on a MacBook using Word.
9) How many books have you written? Do you have any unpublished work?
I have written five books with another currently in the process of being written.
10) Are you a plotter or a pantser?
I guess that I have both traits in me but lean more strongly towards the pantser mode. I write better when it's impulsive, I think.
11) Do you read all the reviews left for your book(s)?
I read most reviews but always accept that reading is subjective and that people have differing opinions. I don't mind a negative review as long as it is constructive and not just negative for negative's sake.
For example, I was left a review for my second novel – George: A gentleman of the road – that simply read: "Couldn't get into it" … no reason, no elaboration, nothing! It would have been nice to know why that person couldn't get into it but alas, that wasn't to be the case. Comments like that seem a little pointless to me.
Concerning your latest book: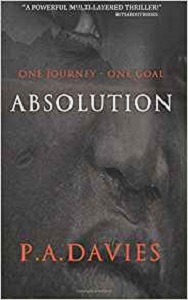 Absolution
Author – P.A. Davies
Publisher – MJD Publishing
Pages – 355
Release Date – 24th October 2017
ISBN 13 – 978-0957263987
Format – ebook, paperback

When the Militia entered the peaceful village of Nyanyar Ngun, South Sudan in 1992 – amidst the backdrop of a bitter civil war – it wasn't in peace.
Soldiers of the SFL committed untold atrocities in that small farming village and from a line of terrified children, boys were chosen to become recruits of the Militia, whilst girls were taken for selling within a market of odious buyers. Those who weren't selected were either left to perish or murdered where they stood.
In a field of high maize next to the village, sixteen-year-old Jada lay hidden and afraid, witnessing the merciless slaughter of his parents and the capture of his sister Kiden; powerless to stop it, too frightened to try.
But now – tortured by grief, consumed with shame and driven by guilt – Jada must embark on a long & arduous journey to rescue his sister from a sinister world and earn his absolution… or die trying!

12) How long did it take you to get from the idea's stage to your date of publication?
About 12 months.
13) How did you come up with the names for your characters?
Good question. For the main character, I researched popular male names and surnames in South Sudan from the year the book was supposedly set in. Hence, Jada Artoli was born. The names for the other characters were created as I wrote about them but again, with some research regarding gender and location.
14) Can you give us an insight into your main character(s) life?, What makes them tick?
He is a young man dedicated to the love of his family. He (and the reader) discovers that he is brave beyond his years, tenacious beyond his experience of tenacity and fearless beyond reason.
15) Which was your hardest scene to write?
There is some daunting content within the book – especially as it involves human atrocities – so I don't think that I could actually pinpoint one particular scene that was hard to write. Most had an effect on me, emotionally speaking.
16) How did you come up with the title of your book?
Here's a thing that nobody knows. The title, Absolution, was actually thought of way before the story was even conceived. I do that sometimes; write down a random word or phrase that I like the sound of, in case I can use it in the future.
17) Did you get a family member/friend to read your work before sending to the publishers?
I have four friends who read my work as the chapters are written. I know that they will give me good, constructive feedback – tell me what works and what doesn't – and I trust their judgement implicitly.
18) What process did you go through to get your book published?
Well …
When I finished my first novel, Letterbox, the year was 2010 but it might as well have been the Middle Ages as far as publishing went. The major publishing houses had long since closed their doors to unsolicited manuscript submissions and would only consider material submitted from a reputable agent. Thing was, trying to get a reputable agent to represent you was almost as impossible as securing a publishing deal and unless you got lucky, your hard work was destined to stay in a drawer together with all your rejection letters.
There were of course publishers that would quite willingly produce your book but for an amazingly huge fee. Commonly known as Vanity Publishing, this kind of publishing was very much frowned upon in the world of literature and an author was not taken very seriously if he dared venture down this route.
So, with no Literary Agents willing to take me on and my pride – and funds – preventing me from heading down the vanity route, what was I to do with my freshly written novel? The answer?  Self-Publish it.
Self-publishing, I had discovered, was the way forward, the future, the quickly becoming accepted alternative.  "Perfect," I thought. "How hard can it be?"
Second answer? Very.
Back then, there were very few tools or apps or guidelines to help you put a book together and believe me, trying to convert an A4, double-spaced, single-sided manuscript into an A5 size, readable, market-ready book was a nightmare. Formatting, editing, proofreading, cover design, were all alien terms to me and I quickly became like a duck … not out of water but stranded in a desert … with no wings!
Professional help was at hand – for a sizeable fee – but as starting authors go, who can afford that, right? I certainly couldn't and thus, I was completely on my own: a manuscript and an idea to self-publish, with no technical skills to pull it off. There was also that constant niggling doubt of, who the hell is going to buy my book anyway and it seemed that the cloud of failure would inevitably descend upon me and shroud my dreams completely.
But I didn't give up that easily folks, oh no!
I tirelessly researched the self-publishing process. I studied every article and know-how tutorial on formatting text, editing and book cover building that I could and I stayed up into the wee small hours trying to make my endeavours work. I made massive mistakes and then made a lot more but eventually – and proudly – I actually managed to construct my first novel.
Okay. So the cover wasn't great and perhaps the spelling and grammar wasn't 100% correct but you know what? I had done it. I had published my own book AND without the help or control of mainstream publishers and literary agents.  I felt epic!
Nowadays  – just 7/8 years on – there is a menagerie of free help and guidance on the Internet to make self-publishing both easier and quicker, with companies like Amazon and Lulu leading the field in both the creation and marketing of physical books and e-books.
It would appear that self-publishing has finally become accepted!
19) What did you do once you had written the final word in your book?
I thought to myself: "Now comes the hard bit!" Editing is a laborious task.
20) What's next for you, writing-wise?
I am currently writing my 6th novel entitled "I Muslim" which is set against the backdrop of another tragically true event. I can see it being very controversial for some.
1) What's your favourite food?
My apologies in advance to any vegetarians reading but it has to be a roast lamb dinner.
2) If you had a box of crayons and you could only choose one, which colour would you choose?
Red … vibrant, dangerous and symbolic of love.
3) What movie could you watch over and over again?
Ooo. There are so many great titles to choose from that I have narrowed it down to three.
Singing in the rain.
I am legend: The Will Smith version not Charlton Heston – and
Castaway: The Tom Hanks version not Oliver Reed.
4) What would be the top song on your playlist?
Again, such a massive list to choose from, but I'll go with, Funeral for a friend/Love lies bleeding by Sir Elton John.
5) If you won millions, what would be your first purchase?
A house on a Greek island – overlooking the sea – from where I could write.
6) A talking duck walks into your room wearing a baseball cap and sunglasses, whats the first thing he says to you?
"Get up lazy arse, it's a lovely day outside!"
You can find out more about P.A. Davies by visiting the website/social media sites below.
www.padavies.co.uk
@padavies_
Facebook
Google+
Goodreads
I would like to say a big thank you to P.A. Davies for sharing with us details of his writing life, and for a wonderful interview.
Blog posts straight to email via Bloglovin – Like us on Facebook – Follow us on Twitter