Tubing by K.A. McKeagney – Book Review
Tubing by K.A. McKeagney – Book Review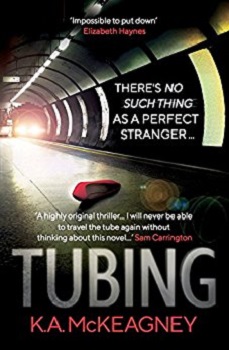 Tubing
Author – K.A. McKeagney
Publisher – RedDoor Pub
Pages – 288
Released – 10th May 2018
ISBN-13 – 978-1910453568
Format – ebook, paperback
Reviewer – Stacey
Rating – 5 stars
I received a free copy of this book
Post contains affiliate links.
Polly, 28, lives in London with her 'perfect-on-paper' boyfriend. She works a dead end job on a free London paper… life as she knows it is dull. But her banal existence is turned upside down late one drunken night on her way home, after a chance encounter with a man on a packed tube train. The chemistry between them is electric and on impulse, they kiss, giving in to their carnal desires. But it's over in an instant, and Polly is left shell-shocked as he walks away without even telling her his name.
Now obsessed with this beautiful stranger, Polly begins a frantic online search, and finally discovers more about tubing, an underground phenomenon in which total strangers set up illicit, silent, sexual meetings on busy commuter tube trains. In the process, she manages to track him down and he slowly lures her into his murky world, setting up encounters with different men via Twitter.
At first she thinks she can keep it separate from the rest of her life, but things soon spiral out of control.
By chance she spots him on a packed tube train with a young, pretty blonde. Seething with jealousy, she watches them together. But something isn't right and a horrific turn of events make Polly realise not only how foolish she has been, but how much danger she is in…
Can she get out before it s too late?

Polly has been in a relationship with her older partner Oliver for quite a while. Their relationship is perfect except for the physical side where they seem to both want different things. Polly craves more.
Late one night, after she had been out drinking with a friend, she is travelling home on the Tube, when a man approaches her and starts kissing her. Next, she knows his fingers are wandering and rather than stop him, she starts to relax and enjoy herself. Once pleasured, he stops and gets off at the next station, leaving Polly a little flummoxed as to what just happened.
Polly soon learns that what happened is called Tubing. Strangers, via Twitter, make arrangements to meet up and perform sexual acts on what another, on the Tube. After finding out about another encounter, Polly follows the instructions, but she's not there to perform, more to find the man she met. She does and they set another time to 'physically' meet. However, it turns out that she has been set up with a stranger.
Polly has now become hooked on these meets, even making the first move on Twitter. But as Polly's life is becoming more interesting and exciting, the rest of her life is starting to fall apart. Witnessing the man she first met commit a serious crime, also has her realising how much danger she is in. It's time to get out, but is it already too late?
Wow, what can I say? This book definitely wowed and surprised me. It also made me wonder, do people actually do this on the Tube in real life? If they don't, Ms. McKeagney might just have just made it a 'thing'!
The book is fast-paced from the very beginning and exciting too. Polly is a wonderful character and it was easy to get inside her head. She was a troubled young woman, very mixed in her feelings towards the situation. One minute she was disgusted with herself, the next she was making the first move – I suppose this is what addiction is like.
The book certainly shocked me in parts, especially when some of the meets were made on the Tube at rush hour times. Really on a packet train!! The plot is certainly different and bang up-to-date with the social media references too.
If you are easily offended or don't like books with sexual references in, then this might not be the book for you as some of the goings-on get a little graphic. If this kind of thing doesn't bother you then this is a brilliant, intriguing novel. One which the psychological side to it had me gripped to the pages right to the end.
Reviewed by Stacey
---
About the Author

K.A. McKeagney studied psychology in Bristol before completing a Masters degree in creative writing at Brunel. She won the Curtis Brown prize for her dissertation, which formed the basis of her first novel Tubing.
She has worked in London as a health editor writing consumer information as well as for medical journals. Her writing has been commended by the British Medical Association (BMA) patient information awards. She is currently working on her second novel.


---