Black Bullet by L.D. Rose – Book Review
Black Bullet by L.D. Rose – Book Review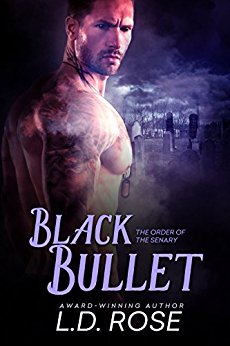 Black Bullet


The Order of the Senary Book Two
Author – L.D. Rose
Publisher – Soul Mate Pub
Pages – 293
Release Date – 9th November 2016
Format – ebook, paperback
Reviewer – Nia
I received a free copy of this book
Post Contains Affiliate Links

Fledgling vampire Jonathan Kerr has just met his match.
Not even his past life as a former Marine and FBI agent could prepare him for the battle against the monster inside him, struggling to take hold. After an old nemesis of the Senary surfaces in Brooklyn, unleashing chaos and terror in the battered borough, Jon sets out to take him down. Instead, he ends up with far more than he bargained for when he clashes with the beautiful half-vampire hybrid, Lawan Knight.
After escaping near death and suffering unspeakable horror at the hands of vampires, Lawan trusts no one, regardless of species. In between bouts of drunken stupor, her only goal is to exterminate all those who've wronged her, including every member of Jon's vampire bloodline. But Jon's soulful eyes and quick smile crawls under her skin, transforming her black and white world into a hazy shade of gray.
As the days rapidly grow darker, Jon and Lawan turn to one another, but their inner demons threaten to tear them apart. The only way either of them will survive is if they overcome their greatest fear–Love.

At this point I'm prepared to bet that this series is just going to get better with each new book that the author releases. I love L.D. Rose's writing style and the way she makes everything play out in your head like a less trite and PVC squeaky version of the Underworld film series. There's plenty of violence and fighting scenes in this instalment, with blades, guns and good old fashioned face punchery and Rose doesn't miss out a single necessary detail.
This book picks up shortly after where we left off in the first book: Releasing the Demons. Jon is now some variation on a vampire and is working with the hybrids to protect humans from the vampires without moral qualms about who they feed on. While he's hunting down these vampires and trying his best to come to terms with his new state of being, he comes across Lawan.
Lawan likes to stab things that come to close to her, as a result of the trauma she suffered at the hands of the villains of this book. She's a survivor by nature but the abuse she's suffered has left her struggling with drug and alcohol dependency to drown out the worst of her memories, while she tries to revenge herself on the man who hurt her.
She and Jon form an instant connection, though I was a little disconcerted at how quickly she seemed to overcome the worst of her psychological trauma. I know it's necessary for the story to progress and to demonstrate how they're teaching each other to trust again…. But I felt that there could have been a little bit more resistance in the process.
What I particularly loved about Lawan as a character was that she was both a victim and a hero in equal measure – she wasn't being rescued by the menfolk at every turn and she did her fair share of rescuing, but she had endured unimaginable suffering before this story began.
This series has now taken a step away from the Black Dagger Brotherhood style and come into its own and I LOVE IT. Not as much as I love Oscar the cat, who you'll meet when you do the right thing and start reading this book, but it really is outstanding.
The hybrids all live together in a secure compound, the dynamic between them all is fascinating and I think keeps the story together better than just focusing on a single couple to the exclusion of all else and is why I can say that this series has taken a place in my heart above the Black Dagger Brotherhood *gasp*.
If you're a fan of paranormal romance, vampires and violence – Black Bullet is the book for you! I would recommend reading the first book in the series first as it fills in some of the gaps and is also another book to read!
Book Reviewed by Nia
Purchase Links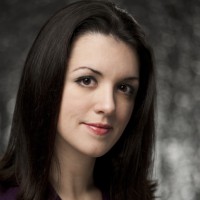 L.D. Rose is a neurotic physician by day, crazed writer by night, and all around wannabe superhero. She writes paranormal romance and urban fantasy, but she's been known to delve into horror, sci-fi, and medical suspense on occasion.
L.D. Rose is a member of the RWA, FF&P, NEC-RWA and CoLoNY. She currently lives in Rhode Island with her studly hubby, her hyperactive boxer, and her two devious cats.
Author Links