Queenie by Candice Carty-Williams – Book Review
Queenie by Candice Carty-Williams – Book Review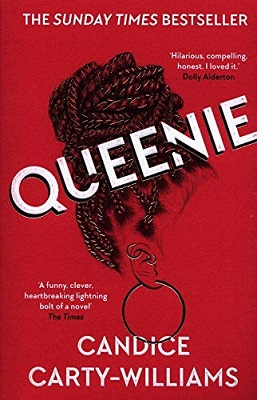 Queenie
Author – Candice Carty-Williams
Publisher – Trapeze
Pages – 400
Released – 6th February 2020
ISBN-13 – 978-1409180074
Format – ebook, paperback, hardcover, audio
Review by – Stacey
Rating – 4 Stars
I received a free copy of this book.
This post contains affiliate links.


Queenie is a twenty-five-year-old Black woman living in south London, straddling Jamaican and British culture whilst slotting neatly into neither. She works at a national newspaper where she's constantly forced to compare herself to her white, middle-class peers, and beg to write about Black Lives Matter. After a messy break up from her long-term white boyfriend, Queenie finds herself seeking comfort in all the wrong places.
As Queenie veers from one regrettable decision to another, she finds herself wondering, What are you doing? Why are you doing it? Who do you want to be? – the questions that every woman today must face in a world that keeps trying to provide the answers for them.

Queenie Jenkins is a twenty-five-year-old black woman, who is unsure of her role in life and her place. She has just been dumped, or 'on a break' with her white boyfriend Tom, who keeps her dangling with the prospects of getting back together in the future. She works at a national newspaper where she wants to make a difference but her bosses see her more someone to cover the lighter stories in life and keep on knocking back her tough Black Lives Matter features.
Not sure who she is and spiralling out of control, Queenie goes from one bad guy to another for sex, never a relationship. She has unprotected sex a lot and ends up at the sexual health clinic a lot.
She is a mixed-up young woman who is trying to fit into society but she doesn't know how or who she truly is which in turn causes her a lot of anxiety and mental health issues.
Queenie is a truly remarkable book that had me enthralled the whole way through, though I would say that the book felt slow at the beginning for me and the last 40-50% of the book outshone the first half. It's funny as I don't think I have ever analysed a book like I did this one for days afterwards.
Queenie is a beautiful young woman who like a lot of women today felt lost within herself. She is living in the biggest city in the UK, doing a job she loves but doesn't feel like she actually gets to participate and have her voice heard, especially being a black woman in a mainly white, middle-class environment. She has been knocked back by her white boyfriend who doesn't see anything wrong with the way his family treats her and blames her for her reactions to their comments. Her mum left her for a man when she was a child who beat her and she is living in a house share she hates.
She distrusts black men due to her abusive upbringing and so only dates white men although she is happy to let them be forceful and overly rough, so much so that the sexual health nurse thinks that she is being abused.
Everything is too much for Queenie and so she starts to see a psychiatrist to help her understand who she truly is and what she wants out of life.
I loved the book, although I wouldn't say it was a comedy, there were a few moments I smiled, mainly at her internal monologue or the messages with her friends. There were a lot of tough moments in the plot and some which had me just wanting to put my arms around Queenie and give her a big hug. She was just one mixed up girl who actually came across younger than she was, if I didn't know her age I would have put her around 18-19-years old. Her past hurt her a lot and this new 'break-up' has pushed her to the edge.
This is a book about one woman's journey to find herself with the help of her family and friends. It is heart-warming at times, alarming at others but completely poignant the whole way through. Some scenes are quite hard to read, especially the sexual ones and that isn't because of the sex but because most of the time Queenie didn't actually want sex, but she didn't want to say no either. She wanted compassion, someone to be there for her, even just for a few hours but gave in to the men who just wanted her body.
Overall, it is a great story that held my interest the whole way through but it didn't go in the direction I was expecting it to. It also is certainly nothing like Bridget Jones's Diary which it is being marketed to be like and I feel marketing it this way is doing this story a disservice.
Book Reviewer – Stacey
---
Purchase online from:
---
About the Author

Candice Carty-Williams was born in 1989, the result of an affair between a Jamaican cab driver who barely speaks and a Jamaican-Indian dyslexic receptionist who speaks more than anyone else in the world. She studied Media at Sussex because her sixth form teachers said that she wasn't clever enough to do English, but she showed them all by first working at the Guardian Guide and then moving into publishing at 23.
Carty-Williams has worked on marketing literary fiction, non-fiction and graphic novels ever since; her first highlight was interviewing David Cronenberg and telling him that if she were a white man she'd like to look like him. In response he called her a 'delightful person'. In 2016, she created and launched the Guardian and 4th Estate BAME Short Story Prize, a prize that aims to find, champion and celebrate black, Asian and minority ethnic writers. She also contributes regularly to Refinery29 and i-D.




---
What did you think of Queenie? Share your thoughts in the comment section below!
---
The above links are affiliate links. I receive a very small percentage from each item you purchase via these link, which is at no extra cost to you. If you are thinking about purchasing the book, please think about using one of the links. All money received goes back into the blog and helps to keep it running. Thank you.
Like us on Facebook – Tweet us on Twitter – Pin us on Pinterest