Friends at Forty by Angie Dickerson – Book Review
Friends at Forty by Angie Dickerson – Book Review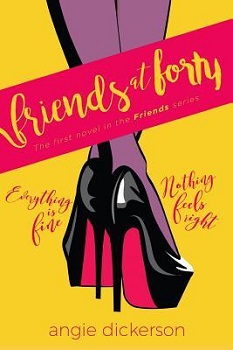 Friends at Forty
The Friends Series Book One
Author – Angie Dickerson
Publisher – CreateSpace
Pages – 307
Release Date – 6th April 2016
Format – ebook, paperback
Reviewer – Teresa
I received a free copy of this book
Post Contains Affiliate Links

"If our love life was a dishwasher, we could fix it."
This is a tale of fine dining, Zen masters, Magic 8-Balls and the inexplicable bond that holds a marriage together even as it ruptures at the seams: friendship.
What if you had the opportunity to reinvent yourself after a lifetime shackled to parenthood but didn't know what you wanted or even who you were?
When empty nesters, Samantha and Daniel Blake, move into their loft in L.A.'s hip Historic Core it is in search of a new lifestyle—an attempt to stabilize their erratic marriage weighed down by decades of spousal congeniality and exhaustive parenting. But when new alliances surface, tensions mount as the couple is tested by an overdose of their "new normal."
Samantha is finally pushed to make her most difficult choice: will she have the strength to sacrifice her marriage to find herself or will she continue to trail aimlessly behind Daniel and live an uninspired life?

"Everything is fine. Nothing feels right."
Samantha and Daniel Blake are married and have two children, the youngest having just left for university. After finding themselves alone, with no children to look after they decide to move into a new building, somewhere in midtown Los Angeles. The change in scenery is the beginning of Samantha and Daniel Blake's second act, an act meant to bestow upon them a universe of ravishing reviews, perhaps even a standing ovation. The audience is on their feet, their hands are meeting one another in apparent bliss… but why is there no sound?
"After shedding all those coats, what was left behind was a confused, scared and lonely forty-something woman named Samantha, who she had never taken the time to know."
Samantha was always someone's something. She was her parents' daughter, then Daniel's wife, and then another layer was added once she became someone's mother. Having met her husband-to-be while still at university, Samantha never had, at least not the time, to figure herself out. Now, with her children gone and her husband half-distracted by his income-proving job, she finds herself… lost.
I would say that Friends at Forty by Angie Dickerson is, first and foremost, a novel about life changes. At the start, Samantha and Daniel seem to recover from the earthquake of transformation in a gentle way, but the replicas kept coming and shaking the roots, which were buried long ago in wet sand mistaken for cement. Everything then seems to start falling apart, and rather chaotically too.
Even though I enjoyed the premise, I must confess the deliverance just wasn't my cup of tea. I feel like there was something missing. This is indeed an introduction of sorts, the beginning of what is meant to be a saga, but it feels too floaty, too… out of nowhere.
I understand Samantha's mood swings, I understand that she's meant to come across as lovably. Annoying, even the clichés that surround her journey made sense to me. Daniel however, with his odd Batman quirk that doesn't seem to belong at all, and his reactions to other women… Perhaps that's the whole point, perhaps we are supposed to jump into Samantha's shoes and see, feel, the surroundings through her eyes. Still, there's just… I can't quite put my finger on it.
There are moments of utter joy, though, and abundant laughter. The way food is described, for example, is almost sinful, as well as the way the different atmospheres, and the transitions between them, are painted.
All in all, I would go as far as calling Friends at Forty entertaining.
Book Reviewed by Teresa
Purchase Links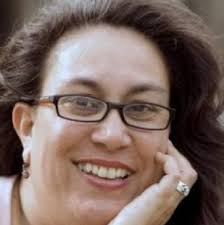 Angie fell in love with her first book back in middle school. Her school library was fundraising by selling discarded novels for 39 cents. She spent her last 50 cents on a tattered paperback with yellowed pages and creases on the cover titled Forever and never looked back. Thirty-two years later, after fourteen years as a teacher, she has made her writing dreams a reality and published her first novel, Friends at Forty.
Angie has been recently demoted to the role of empty nester and after twenty-two years of marriage and raising three wonderful children, she spends her hours writing and reading about what she knows and loves most: the misadventures of family and couplehood. Her first novel tackles the difficult questions we are sometimes too afraid to ask: What is a loving couple to do when they discover they want different things out of life? Is friendship enough to save a marriage in trouble? What is the role of romance and passion for a forty-something couple after decades accustomed to a practical partnership?
Angie is hard at work on the second novel in her Friends series, with the next instalment, Friends at Sea, underway. This is the emotional continuation of Samantha and Daniel Blake's journey: a marriage in trouble forced to face who they were, who they've become but most importantly who they want to be.
Author Links