This Charming Man by C.K. McDonnell – Book Review
This Charming Man by C.K. McDonnell – Book Review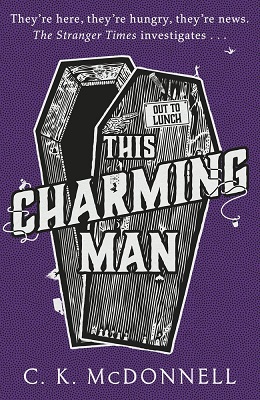 This Charming Man
The Stranger Times Book Two
Author – C.K. McDonnell
Publisher – Bantam Press
Release Date – 17th February 2022
Pages – 512
ISBN 13 – 978-1787633377
Format – ebook, Paperback, Hardcover, Audio
Star Rating – 5
I received a free copy of this book.
This post contains affiliate links.

Synopsis
Vampires do not exist. Everyone knows this. So it's particularly annoying when they start popping up around Manchester . . .
Nobody is pleased about it. Not the Founders, the secret organisation for whom vampires were invented as an allegory, nor the Folk, the magical people hidden in plain sight who only want a quiet life. And definitely not the people of Manchester, because there is nothing more irksome than being murdered by an allegory run amok. Somebody needs to sort this out fast before all Hell really breaks loose – step forward the staff of The Stranger Times.
It's not like they don't have enough to be dealing with. Assistant Editor Hannah has come back from getting messily divorced to discover that someone is trying to kidnap a member of their staff and while editor Vincent Banecroft would be delighted to see the back of any of his team, he doesn't like people touching his stuff – it's the principle of the thing.
Throw in a precarious plumbing situation, gambling debts, an entirely new way of swearing, and a certain detective inspector with what could be kindly referred to as 'a lot of baggage' and it all adds up to another hectic week in the life of the newspaper committed to reporting the truth that nobody else will touch.
This Charming Man is the second book in The Stranger Times series. If you haven't read book one then I feel you really need to before starting this one or you will wonder what-on-Earth is going on!
The series is most certainly unusual, wacky, weird, and oh so much fun. In this second book, the cast from the first are back and are dealing with two issues alongside trying to write their newspaper. Someone has been trying to kidnap one of their employees and Vincent Banecroft the editor of the paper wants to know who and why. The second case they are working on is that there seem to be Vampires running amok in Manchester.
From the opening page to the last line the book kept me invested in the plot, intrigued, and amused. You can certainly tell this has been written by a comedian. I adore all the characters, even Vincent with his bad temper, foul language, and vile behaviour. If truth be told he actually really cares for his staff but doesn't want them to know that.
If you like strange, bizarre books that hold you captive to the pages then this is the series to pick up – Perhaps The Stranger Times could look at how C.K. McDonnell keeps his readers engrossed. Is it some dark magic or is his writing and plotting skills so good you just have to keep on reading? Find out for yourself by giving the series a read.
With the epilogues hinting at a third book, I can not wait. I hope this series goes on for many more books as it is most definitely one of my favourite, ever!
---
Purchase Online:
C.K McDonnell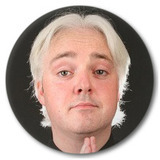 Irishman Caimh McDonnell is a former professional stand-up comedian and TV writer who now concentrates all of his energies on his books. Born in Limerick and raised in Dublin, he has taken the hop across the water and calls Manchester his home.
His TV writing work has seen him work on some of the biggest topical comedy shows on British TV and has earned him a BAFTA nomination. These days he can be found happily writing his next book in the office in the back garden, with only his dog and his imagination for company.
His book 'I Have Sinned' has been nominated for the Kindle Storyteller Award 2019. Previously, his debut novel 'A Man With One of Those Faces' was nominated for best novel at the 2017 CAP awards.
Author Links:
---
The above links are affiliate links. I receive a very small percentage from each item you purchase via these links, which is at no extra cost to you. If you are thinking about purchasing the book, please think about using one of the links. All money received goes back into the blog and helps to keep it running. Thank you.