Volta by Nikki Dudley – Book Review
Volta by Nikki Dudley – Book Review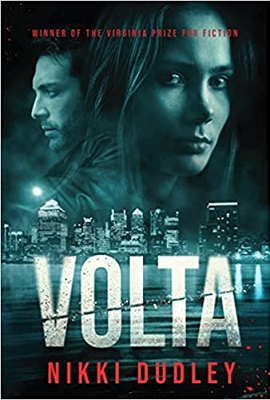 Volta
Author – Nikki Dudley
Publisher – Aurora Metro Books
Release Date – 11th June 2021
Pages – 300
ISBN 13 – 978-1912430550
Format – ebook, Paperback
Star Rating – 4
I received a free copy of this book.
This post contains affiliate links.

Synopsis
When Briony Campbell confesses to killing her boyfriend, an apparently straightforward crime soon turns into a baffling mystery.
Haunted by demons from his past, lawyer S.J. Robin is assigned to the case. But as confusion – and the body count – rises, he's forced to question who is guilty and who is innocent. Can he see justice served and hold on to the woman he loves?
I found Volta a very intriguing novel, full of twists, turns, and surprises.
Set in London, the story centres on Briony Campbell, who when we first meet is covered in blood, declaring she has just killed her boyfriend and is desperate to see her therapist, Mari. However, Mari's receptionist calls the police, and Briony has a lot of questions to answer.
One of the detectives on the case is Aris Demetriou, Mari's brother, who is very protective of his sister. Her defence lawyer, known as SJ (Stanley Jon Robin), appointed for Briony is the best friend of Aris too.
Briony is suffering from memory loss and cannot remember how she came to 'kill' her boyfriend Ed. Her backstory is gradually revealed and we discover a childhood trauma that she also has no memory of. Hmm!
Briony's behaviour becomes more and more deranged as she notices a developing romantic relationship between Mari (her therapist) and SJ (her lawyer).
I found it difficult to get to grips with the character of Briony as she is a thoroughly unlikeable character and a manipulator. I appreciate she is a very damaged person and I wanted to at least feel a little sorry for her, if not actually like her, but I just couldn't.
The book is well-written and flows smoothly. It makes an interesting read for someone who enjoys psychological drama with so much suspense weaved into the twisted plot.
---
Purchase Online:
Nikki Dudley

Nikki was born in London. She has also lived in Madrid.
Her novel, Ellipsis, is published by Sparkling Books. Her chapbook and collection are published by The Knives, Forks and Spoons Press. Her novel, Volta, won the Virginia Prize for Fiction 2020 and was published in 2021.
She is Managing Editor of streetcake magazine and is also a freelance editor/proofreader.
Author Links:
---
The above links are affiliate links. I receive a very small percentage from each item you purchase via these links, which is at no extra cost to you. If you are thinking about purchasing the book, please think about using one of the links. All money received goes back into the blog and helps to keep it running. Thank you.